Topic: Presslaboys - Sturdix EP Alex Kenji Remix - Out Now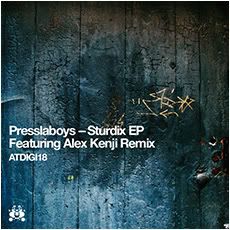 Presslaboys
Sturdix EP
Out Now
Buy on Digital Download
With 2 releases already under their belt, the Presslaboys duo make a most welcome return to the label with their hot new 'Sturdix EP'. Along with the title track 'Sturdix', we also have another original in the form of Amnesias along with an excellent remix from Alex Kenji.
The Italian production duo have had releases on the likes of Viva Music, Crosstown Rebels, Harthouse and Yellowtail to name but a few consequently making quite a name for themselves and finding regular support from key players across many genres. Alex Kenji is also getting some major support with his releases on 303 Lovers, Hotfingers, Starter Records and his recent remix of King Roc and has turned out a monster of a remix of 'Sturdix'.
If you like groovy dirty techy dancefloor orientated music then these tracks are definitely for you.
Reactions
Sasha - Very solid - thanks guys
Hernan Cattaneo - Alex Kenji Dub for me thanks!
Slam - Nice tracks - thanks.
Jim Rivers - Sturdix all the way here. both mixes are good, like the housey feel to the perc and groove. will play for sure