Topic: Dave Shtorn "Here And Now" EP 1Shot-Support from Hernan....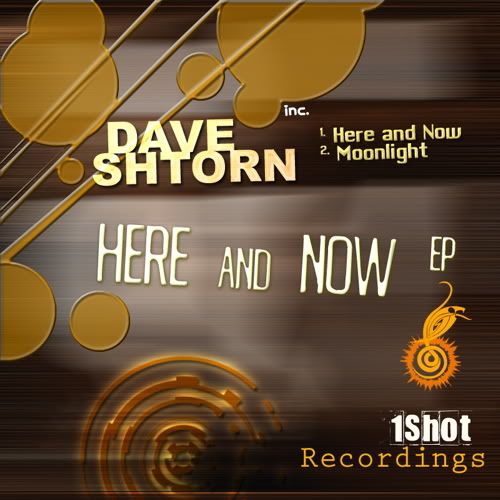 Click here for samples or to purchase.
DAVE SHTORN "HERE AND NOW" EP including "Here And Now" and "Moon Light" Out Now on 1Shot Recordings
Russian Dave Shtorn continues to turn heads all over the underground with his hard to classify tunes. Whether you call it techno, progressive, house or whatever, Dave's music will certainly put a smile on your face and make you dance. After-all, isn't that what its all about? Already signed to such labels as Cobalt,Baroque, Babylon, Acid Milk, Trance4M8 and others, we are proud to have Dave's Here and Now EP as 1Shot's 1st release of 2009!
"Here and Now" is a dark and energetic techno groove certain to make fans of intelligent and dark dance music salivate. David produces a mold of progressive, techno, and electro house with "Moon Light."
RADIO PLAY:
Magma FM Italy, Di.fm, Danceradio.gr, Friskyradio, DG On Air, Proton Radio and others...
DJ REACTIONS:
"I like moonlight...thanks man!"
- Hernan Cattaneo, Renaissance, Bedrock, S. America
Reacted by: Rafy Nieves
Affiliation: Billboard DJ Reporter
Clubs: Berlin/ Medussa/ Starz
Mix Shows: Cyberbiotics
Country: Puerto Rico
Rating: 8
Reaction: 8
Charting: yes
Email & IM: rafy.nieves@gmail.com
Web: www.myspace.com/djrafynieves
www.myspace.com/cyberbiotics
"Thanks. These are 2 nice tech proggy tunes with tuff edge.
Cheers."
- Flash Brothers, Israel, Bedrock, Armada
"Thanks for sending this. Here And Now is the best track here."
- Christian Cambas, Devilock Recordings, Bedrock, Greece
"Solid release great late night tunes.. will be supporting both."
- Ben Brown, USA
"Solid release, 8/10"
- Chris Sterio, UK, Source of Gravity
"Always a big fan of bass heavy tracks, and these don't disappoint! Moonlight works for me the best! Big thumbs up!!"
- Tony Estrada, USA
"Like the beginning of this (Here and Now) but then the heavy bassline is a turn off for me unfortunately. Like this a little better (Moonlight) and will stick it in the bag mate."
- Lee Pennington - riffraff uk - Zoo Project Ibiza
"Here and Now is a nice slab of tech-house, very nice. 8/10"
- Dj Groovy, Knob Records, Kitsam Records, Soundtribe Records, Radio 100
"Massive! 2 outstanding peak time main floor weapons. Full support!"
- Garrett S, Denver CO, Di.fm
"Support! Will use these in those long trance sets to break it up a bit.
Moonlight - 6/10
Here And Now - 6/10
Thank You"
- Jason Sperling, Deep Voices Music // Dyloot, SKILLS SF
And many more....
THANKS TO ALL FOR YOUR CONTINUED SUPPORT THROUGH THE YEARS!
Pangea
SAMER,
pangearecordings.com
soundcloud.com/djsamer-pangea
soundcloud.com/pangearecords