Topic: Glenn Morrison - Orange Glow EP - Babicz & Charlie May Rmxs Out Now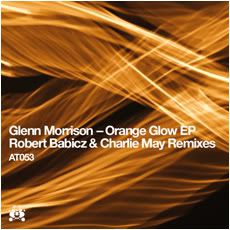 Glenn Morrison
Orange Glow Ep
Out Now
Limited 12" Vinyl & Digital Download Exclusively on Beatport
John Digweed - Charlie May's mix rocked Japan last week.
Sasha - Played it at Fabric last weekend.
Laurent Garnier - Good musical techno vibes, will play for sure
Smith & Selway - Massive...hard to pick which mix is better!!! wicked stuff!!!!
Hernan Cattaneo - Excellent Babicz mix is great and Charlie's rocks too, will play them all.
Henry Saiz - Cool release! Love the twisted arrangements on CM dub edit, Babicz sounds superb as usual. cheers!
Guy J - Loving the babicz reix! great release
Nick Warren - Robert Rocks it!
Neil Quigley - Very good, Babicz's remix is a bad boy!
Anthony Pappa - Used on my Moments 2 CD
Behrouz - Great EP. full support. thank you.
Slam - nice trax - will try out - thanx
Patch Park - Charlie May mixes are my favorite.
Stel - Charlie's mixes are nice-the dub in particular is probably my fav.
Jamie Stevens Infusion - Awesome work YET again. Yep, this is gold. Very hard to pick a fave but i'm loving Charlie's Dub.Getting music like this makes it all the more worthwhile!
Pete Gooding - Wicked new mixes, v good!!!!!!!
Hybrid - Ohhhhh isn't it lovely!!!!!! Love May's mix, amazing package..
Anton Solaris Heights - Babiczs mix for me
Aldrin - Nice deep driving groove from Robert.
Dubfunk - Amazing package all over, guess my pick would be Charlie May Remix as it's the darkest of all.
Federico Epis - Babicz it's the one here, great update on the track !
Marcus James - Charlie's dub is beautiful. warm and emotive yet retains that contemporary edge. hope this gets the wide ranging support it deserves.
Reviews.
Progressive-sounds.com
Orangle Glow is without a doubt one of Glenn Morrison's finest productions to date, so to see it revisited by the heavyweight pairing of Babicz and May fills me with joy. Babicz excels with another percussive, emotion filled rollercoaster of a mix, while Charlie May promotes his wide and diverse musical range with three unbelieveable mixes and edits.
Progressive-world.at
Wow! Babicz remix is proper progressive! love it! Charlie May remix is the best thing he has done for a long time now in my oppinion! dub is nice too!
Press Release.
After debuting with us last year with his 'Finally E.P', Canadian wunderkid Glenn Morrison returns with remixes of one of the tracks from that release in the form of the 'Orange Glow EP'. As far as remix packages goes we happen to think this is a very special one, as we have been able to get the talents of not one, but two heavyweight producers to put their own touches on Glenn's original. Robert Babicz and Charlie May are both on remix duty here and boy have they done us and themselves proud!
Robert Babicz's name is synonymous with production of the highest quality and with releases on the likes of Systematic, Kickboxer and Audiomatique his music is heralded by everyone from Sven Vath, Bookashade and Gui Boratto and his remix of 'Orange Glow' proves once again what an amazing producer Robert is. Driving percussion soon gives way to a funky ass bassline with so much movement it could actually make you seasick, slowly but surely the luscious deep chord's from the original are added giving the track that extra emotive depth that is a quality in most of Robert's records.
Charlie May is another legendary producer who has worked alongside Sasha on his mighty Involver projects as well as key single releases like Xpander, Seal Clubbing and more recently the Emfire releases of Coma, Mongoose, etc. Alongside this he has also released solo projects and remixes as well as teaming up with production partner Duncan Forbes as Spooky which has seen their releases span over the last two decades. Charlie has really spoilt us by providing not just one remix but three absolute gems, the Charlie May Remix is a full on brooding affair that is full of energy that pushes the track through its unrelenting journey utilising the chords and scattered arpegio's throughout. The Dub is much more stripped back is definitely one for the heads that will work equally as well in the back room as it would in the main room, finally the CM Dub edit is a tasty little bonus mix done specially to start a certain Dave Seaman's latest CD.
All in all we think you'll agree this is one hell of an EP that is crammed full of some of the biggest names in Electronic Music which will no doubt see this release being on most peoples playlists over the forthcoming summer. Enjoy x