Topic: Electronic Melody Sessions - Season 3 - w/DJs Luben & Figurehead!!!!!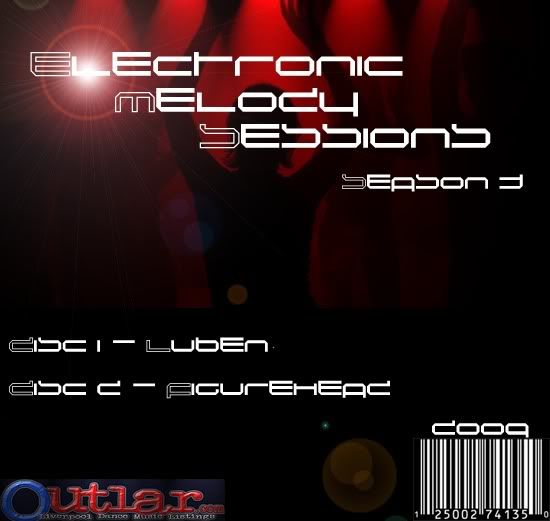 Hey, hi and here we are... EMS Season 3!!!
This season features `The Figurehead`, a superb DJ widely known for his `Transgressions` and `Fuzzy Logik` nights and compact discs. This man has over 20 years
experience and success with some real die hard fans to show for it who have followed him all the way on his musical journey,
from the acid house rave scene of north west England until now....
This man has a real ear for those exceptionally great tracks out there and i believe he demonstrates this fact in this mix (disc 2) by starting with a great opening
track mixed with a sample taken from the hit movie in cinemas at the moment `Away Days`.
A film that is based in my home town and which strangely enough i was an extra member of cast in, deliberate? who knows haha ;-)
As a lot of you may now know the EMS mixes are recorded live in front of a small group of close fans to ensure that when it comes to you guys
listening to them, you know that its a true set and not some mix put together digitally like a lot of other albums out there,
I personally feel its better this way and adds a slight raw feeling to the mixes (obviously some pre planning goes into them ie. track selection, samples etc),
and it also gives us a chance to have a bit of fun, a few beers and take in some instant feedback to get some kind of insight to how you guys who download the mixes
might take to them...
(I hope that clears up the most common asked question in your emails)
Now for the mixes....
E.M.S - Season 3 - Disc 1 - Luben
http://www.divshare.com/download/7544020-1bb
http://www.sendspace.com/file/bwcqo5
E.M.S - Season 3 - Disc 2 - Figurehead
http://www.divshare.com/download/7544301-3e2
http://www.sendspace.com/file/5he27i
Ps. The fan base for `Electronic Melody Sessions` is growing dramatically with each season and i
only have you guys to thank for the constant increase of support.... So make this season no different!!!
Also, Add the EMS Series to your friends list or become a fan and recieve all info before anywhere else...
(FACEBOOK)
http://www.facebook.com/pages/The-Elect … 1564332479
(MYSPACE)
www.myspace.com/electronicmelodysessions
[/img]http://i294.photobucket.com/albums/mm107/djluben/EMS-Album-Cover-season-2-09.png[/img]