Topic: Transitions 384
Transitions 384
Hour 1 : John Digweed (Studio Mix)
01. Joris Voorn vs Moby - After The After (Original Mix) [Rejected | REJLTD002]
02. Random Reverence - Random Reverence [Unknown]
03. Dominik Eulberg – H2O (Hot Chip Extended Vocal Mix) (Diorama Remixes Pt2) [Traum Schallplatten | TRAUM V145]
04. Terranova feat. Khan - So Strong (Santé Dub)[Kompakt | KOM 246]
05. Mikh Solvis - Deep Pool (Todd Bodine Remix) [Klangfarbe Schallplatten | KLA09]
06. Steve Parker - Bodytrade (Escuro EP) [Ovum Recordings | OVM-219]
07. Steve Bug - This Is Acid [Poker Flat Recordings | PFRLP28]
08. Leghau - Wind (Insane EP) [Trapez | TRAPEZ127]
09. Guy J - My Thought Of You (Sian's Telepathic Mix Remix) [Bedrock Digital | BEDGJDIGI01]
Hour 2: John Digweed : Bedrock Arena, Balaton Sound, 10th July 2011 part 2
Zamárdi Beach // Szabadstrand, Lake Balaton, Zamardi 8621 Hungary
01. Gabriel Ananda – Give Me Five [Basmati | BASMATI #5]
02. Psycatron – Memories Of The Moment [Bedrock Digital | Beddigi-14]
03. Slam - Black Gold [Paragraph | PARA012]
04. Oliver Klein – Rheinkraft [Maelstrom Records | MAELT001]
05. Sian - Are You Reading This (Ramon Tapia Stuck In The Strobe Remix) [Octopus Recordings | OCT015]
06. David Durango – Random Pleasure (Alexander Kowalski Remix) [Damage Music Berlin | DMB005]
07. Andi Müller - Comedown (360 Mix) [Trouw Music | TRW4]
08. Maxine Dangles - Dihaiz (Modulation EP) [Bedrock Digital | Beddigi-10]
09. Henry Saiz - La Marea [Bedrock Records | Bed100]
10. Gabriel Ananda – Hey Blop [Basmati | BASMATI #5]
File >>http://www.megaupload.com/?d=PYX1UPMN
Release Notes: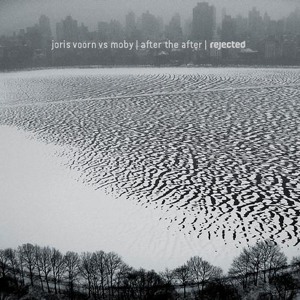 01. Joris Voorn vs Moby - After The After (Original Mix) [Rejected | REJLTD002]
Release Date 2011-12-12
Label Rejected
Catalog # REJLTD002
Joris Voorn's re-work of 'After' taken from Moby's tenth studio album, Destroyed is now available as a very limited one-sided clear vinyl 12″. Get it while you can at select stores!
Amsterdam label, Rejected are proud to announce a special remix of techno pioneer Moby from their very own head honcho, Joris Voorn. The on-fire producer has delivered a brand new re-work of 'After' taken from the American stalwart's tenth studio album, Destroyed which has since seen a series of remix packages through the Little Idiot label. Now, Joris' remix will be made available through Rejected's usual digital platforms in addition to a limited edition 12" vinyl. Taking Moby's original, Joris injects a club sensibility with rolling bass and punchy beats. Instilling his unique feel for dancefloor-funk, the Dutchman adds plenty of soul to remix, leading the original away from its darkened edge and into the light. Subtle melodies and progressive keys build purposefully throughout the track to deliver yet more party fodder from Joris Voorn and Rejected. This will keep you dancing After the After!!
Released by: rejected official
Release/catalogue number: REJLTD002
Release date: Dec 12, 2011
02. Random Reverence [Unknown]
No release info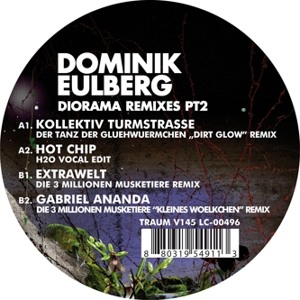 03. Dominik Eulberg – H2O (Hot Chip Extended Vocal Mix) (Diorama Remixes Pt2) [Traum Schallplatten | TRAUM V145]
Diorama Remixes Pt 2
Dominik Eulberg // Traum Schallplatten
Format // 12" + Digital (w. extra tracks)
A1. Der Tanz der Gluehwuermchen (Kollektiv Turmstrasse "Dirt Glow" Remix)
B1. Die 3 Millionen Musketiere (Extrawelt remix)
B2. Die 3 Millionen Musketiere (Gabriel Ananda "Kleines Woelkchen" Remix)
Digital 1. Der Tanz der Gluehwuermchen (Rone Remix)
Digital 2. H2O (Hot Chip Extended Vocal Remix)
Digital 3. H2O (Hot Chip Extended Instrumental Remix)
Digital 4. Teddy Tausendtod (Stephan Bodzin "Zebra" Remix)
The second part of the "Diorama" remixes offers again some of the finest producers around.
Starting with Kollektiv Turmstrasse! What kicks off as a Chez Damier groove makes the transition into a loose dub monster. Collecting traces of the original sound and dispersing them with magic movements we see why Kollektiv Turmstrasse are a top act. Shifting the attention from the front to the far back from the obvious to the abstract... Turmstrasse create that parallel groove on top of the groove which seems to tighten up with every minute. Fine particles of sounds are sprayed onto the relentless groove and make it a real crowd pleaser.
An amazing remix comes from Hot Chip who have remixed "H2O". Bubbling synth sounds meet the melodies of the original, resulting in a laid back tune that makes contact to the melodic Detroit Techno such as exercised through Red Planet and UR productions by Mad Mike. The airy and breezy parts are due to the fantastic vocals of Joe Goddard and the elevating and heart breaking synth sounds by Felix Martin that seem to come from the middle of the earth to surface at times in an enveloped euphoric movement.
There are three versions here, make sure you listen to the extended version as well since this shows even better the spiritual side of it, it is a digital bonus since it was too long for the vinyl. There is also an instrumental long mix for all of you who would like to hear the pure synths.
Extrawelt have remixed "Die 3 Millionen Musketiere" and have improvised on the original melodic theme, extending it... taking it successful into another "played" direction, leaving behind marks of gloom... all silvery and white as momentums.
Reciting old school Chicago house here, using disco claps and early UK rave elements, it is kept in the style Extrawelt are known for with their recent releases.
We believe him when Gabriel Ananda says he will turn the original more into a club track. There is no reason why he will not make this happen... since he is a man of virtue and a true believer and a close friend of Dominik Eulberg having released together with him on Traum three times already. Gabriel twists sequences like mad, uses feedbacks and a bit of muscle... all of this accumulating in the "suffocation break down", a "real highlight" as Dominik has put it.
Rone's remix of "Der Tanz der Gluehwuermchen" came in last minute. Rone has been coming strong with his music and has been supported by Dominik Eulberg for some time now. The remix recites the original but launches into an improvisation adding other chords mixing the theme up strong.
On the "Diorama remixes pt 2" we also offer a third version of "Teddy Tausendtod" by Stephan Bodzin in the break beat "Zebra" version.
Released // December 5, 2011
Format // 12"
Catalog Nr // TRAUM V145
EAN // 880319549113
04. Terranova feat. Khan - So Strong (Santé Dub)[Kompakt | KOM 246]
Title //So Strong
Artist //Terranova
Label // Kompakt
Format // 12''
A1. Terranova - So Strong Feat. Khan (Twelve Inch Mix)
B1. Terranova - Boogie For The Dollar Feat. Khan (Club Version)
Digital Only - So Strong Feat. Khan (Santé Dub)
Digital Only - Terranova (Findling & Zigon Remix)
The man who's seen it all - TERRANOVA's Fetisch. As Punk's earliest and certainly youngest devotee, he strolled through late 1970's Berlin, then moved over to New York researching the first symptoms of Hip Hop, only to find himself as on of London's premiere resident DJ at the end of the Eighties.
Enters Terranova, shrouded in mystery from the very beginning, Fetisch's go-to project, which he originally conceived in 1996 to explore new club territory, and that has since built its very own cult following. KOMPAKT truly feels honored to be the new home to an artist with such a rich background in club culture.
Today - Terranova's latest incarnation includes Berlin's house staple &ME. For this single, the duo called in local Khan in his preferred role as the longest running hype in the history of underground awesomeness. Consequently, it is with great poise that the trio's latest 12"
"So Strong" commands its army of listeners to the floor, not unlike Terranova's first outing on Kompakt, the confidently named "I Want To Go Out". Both the title track and epic flipside "Boogie For The Dollar" make up for a double headliner that takes you on a beguiling trip to the dark side of the club. No only do Terranova's sequencing and beat programming deliver in spades, the package also sports some of the best vocals Khan has churned out to date, featuring his trademark fusion of cool indifference and pure sleaze: "I give myself up to your splendor... so strong."
Released // December 12, 2011
Format // 12''
Catalog Nr // KOMPAKT 246
EAN // 880319063510
05. Mikh Solvis - Deep Pool (Todd Bodine Remix) [Klangfarbe Schallplatten | KLA09]
After a summer break we're proud to announce the forthcoming Klangfarbe-Release:
KLA09 is done by Mikh Solvis, a young & talented, 22 year old russian fellow from Yekaterinburg, who delivers two atmospheric tracks in warm and gentle moods!
Perfectly suiting days which are getting colder...
The original tracks are framed w/ edits by Todd Bodine and flipside by Daniel Mehlhart, who will both be featured, each with a single track, beside MRI and Tandem on our tenth EP, the "X EP"!
Please check also our Klangfarbe Klub venues in Colognes lovely Studio 672! Come around if you are in town! Keep your eyes, ears and especially mind wide open and enjoy our music!
Supported and played by: Laurent Garnier, Karotte, Someone Else, Oliver Schories, Sebo, Andrew Grant, Mike Callander, Tandem, Seth Troxler, Souki & Windish and many more!
Released by: Klangfarbe Schallplatten
Release/catalogue number: KLA09
Release date: Jan 23, 2012
06. Steve Parker - Bodytrade [Ovum Recordings | OVM-219]
No further info as yet - although played by Josh Wink at Pacha (Portugal) and coming up on Steve Parker - Escuro [Ovum Recordings].
Steve Parker Bio
Steve Parker born and raised in the Portuguese city of Porto, grew up on experiencing the summer of Acid and the revolution of House and Techno, and since then dance music always as been present.
Having risen through the techno ranks, Steve Parker today is probably the most successful Tech House / Techno producer on his own country and firmly established himself as one of the most respected new comers around in the DJ world, only because right from the beginning of his first releases in 2007 He setted a higher plan, deciding to aim and work only on quality labels.
With various EPs released on labels such as SCI+TEC (Switch Box EP), Get Systematic (Quartz rec), Synewave, Sleaze, Harthouse and many others, Steve Parker kept pushing things harder and in December 2009 Mexilhao (Weave) was born and suddenly after one week the track got an outstanding 3rd place at the most well recognized music store "Beatport".
With more than 12 printed releases on vinyl and nearly 100 originals / remixes on every digital shop on the web, his music were also included in some internationally Mix Albums such as Secret Cinema Welcome to my club, Azuli Presents Ibiza '11 by James Talk & Olav Basoski.
His Productions mirror his own DJ sets, touching on House and Techno always dominates a trademark drive with a deep hypnotic explosiveness vibe mixed with groovy rhythms that characterises his stylish minimalist Tech style.
Steve Parker's had already proved being a quality producer with his music being charted more than 400 times and carry on being included on the playlists by the likes of Sven Vath, Dubfire, Chris Liebing, Josh Wink, Richie Hawtin among many others.
He is now decided to build a wider and solid recognition as a DJ to be able to express his music to every corner of the globe.
With the launch of his own label SPARK MUSIK in December 2010, all the hard work suddenly rewards him with tour dates in New York, Toronto, Zurich, Paris, London and many other cities including summer festivals in south Spain and Croatia.
2011 is definitely the year that all things come together and is looking to be Steve Parker's most successful year to date, specially when legendary Josh Wink confirmed a long waited dream of releasing "Escuro EP" on Ovum Recordings a label that he grew up being inspired with since is own youth.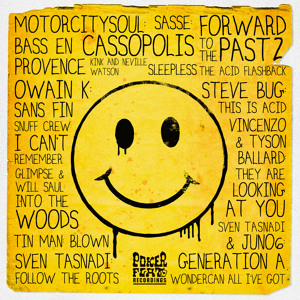 07. Steve Bug - This Is Acid (Forward To The Past 2: The Acid Flashback) [Poker Flat Recordings | PFRLP28]
2 x 12" package includes free bonus 10inch picture-disc.
After the old-school inspired 'Forward To The Past' that saw a Poker Flat re-visit some seriously jacking zones, we now focus directly on Acid House and the genre's beloved Roland TB-303. That innocent little box created some of the most freaky basslines in dance music history, and we're here to celebrate its unique tone and the legacy of ACID.
Producers featured include Motorcitysoul, Vincenzo and Tyson Balard, Sven Tasnadi and Juno 6, Sasse, Steve Bug, Kink and Neville Watson, Snuff Crew, Tinman, Glimpse & Will Saul.
Labelhead Steve Bug contributes a hot little tribute to chicago, 'This Is Acid'!
Germany's Motorcitysoul drop the 'soul' and transform themselves into 'MotorcityACID' with 'Bass En Provence'. A mighty 303 bass line tweaks while ungodly synths warble on top of the madness.
Up and coming UK producer Owain K supplies a really haunting acid track complete with some really classy vintage percussion and a squelching lead line. Similarly, Vincenzo & Tyson Balard feed our analog appetites with more soaring 303 action and a classic stomping new jack groove.
Leading hallucinators Kink & Neville Watson really freak us out with 'Sleepless' - a dark dirty and raving track that makes no compromises and sends us sky high with its multiple acid lines and driving drums.
Sasse is back with a storming, flanging monster in 'Cassopolis'. 707 drums work the floor while a reminiscent string line leads the 303 tweaks into the night.
Released by: Poker Flat Recordings
Release/catalogue number: pfrlp28-bp1
Release date: Dec 14, 2011
08. Leghau - Wind (Insane EP) [Trapez | TRAPEZ127]
Leghau aka Cedric Rebagliato is an uprising but already established French artist, DJ and a techno composer. With releases on classy labels such as Tongut, Figure (Len Faki), Italo Business etc he has catapulted himself into a league of producers such as: Samuel L Session, Slam and Adam Beyer.
Leghau's music can be described as made for clubs, rather precise, straight and rocking steadily. And you can assured that he has lived up to his reputation with the tracks he has done for us.
His release on Trapez contributes to the more recent releases on the label worshipping that heavy rolling techno sound, hypnotic with less stunts but a massive wall of sound.
The "Insane EP" hold three new tracks and a remix by Butan DJ and producer Frank Sonic who has recently released his own solo on Trapez.
We are looking forward to connect here with some real techno heads.
Release date: 12th December 2011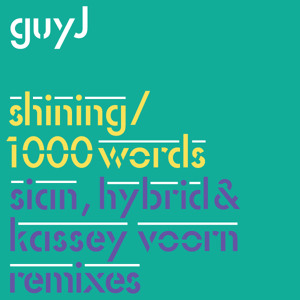 09. Guy J - My Thought Of You (Sian's Telepathic Mix Remix) [Bedrock Digital | BEDGJDIGI01]
Guy J - My Thought of You (Sian`s Telepathic mix Remix) : Taken from
Guy J - Shining / 1000 Words
Featuring Sian, Hybrid & Kassey Voorn Remixes
Released by: Bedrock Records
Release/catalogue number: BEDGJDIGI01
Release date: Jan 16, 2012
SimonR