Topic: Transitions 396
Transitions 396
Hour 1: John Digweed
01. Cormac - Narcosa (Jennifer Cardini's Vision Of Us Remix) [WetYourSelf Recordings | WYS011]
02. Electric Rescue - Lilly [Bedrock Digital | Beddigi-19]

03. Pachanga Boys - Time (Girlcatcher EP) [Hippie Dance | HIPPIEDANCE02] 

04. Of Norway - Libertine ft. Preben Olram [Connaisseur Recordings | cns048-6] 

05. Stacey Pullen - Circus Act (Nic Fanciulli Remix) [Blackflag Recordings | Promo]

06. Spencer Parker - The Improvised Minotaur (Molly Edit) [Rekids | REKIDS061] 

07. Peter Horrevorts - Dirty Hands (Jamie Stevens 5am Dub) [Vapour Recordings | VR102]
Download Links: >> To follow
Release Notes: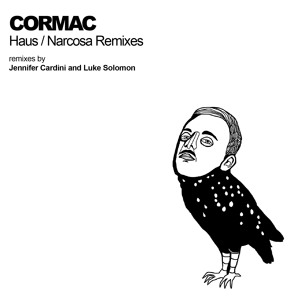 01. Cormac - Narcosa (Jennifer Cardini's Vision Of Us Remix) [WetYourSelf Recordings | WYS011]
Originally hailing from Ireland, Cormac is a weekly resident at seminal London club fabric as part of the WetYourSelf! crew. He is releasing music on BPitch Control and his own co-owned imprint WetYourSelf! Recordings.
Upon its release in 2011 Narcosa quickly garnered support and love from Tobi Neumann, Ellen Allien, Steve Bug, John Selway and Anthony Collins, to name a few. The WetYourSelf! crew now release a killer remix package as they enlist the talent of Jennifer Cardini, Faster and Luke Solomun to reinterpret Cormac's cerebral techno ballad of 2011 ' "Narcosa", as well as showcasing an all-new original from Cormac.
The Original track on this release, "Haus", sees Cormac's continue his exploration of the Machina-Melancholia he has been refining over his past few records. Drum vocabulary is provided courtesy of the Roland-TR legacy, whilst subtle textures and sound design form a decisive nod to modern and established techno methodologies. Deep, fresh and seductively satisfying, this tune was designed for the discerning dancefloor.
Jennifer Cardini delivers an delirious wayward journey into Cormac's Narcosa. Deep synth notes, murky textures and drum machine hits are soaked in reverb. This mix recalls the work of Goblin and the glacial sounds of the 80s underground. Cardini has created an incredible hypnotising lullaby soundtrack for the now.
Offering up a streamlined dish in minimalism, Romanian talent Faster constructs an elegant labyrinth of percussive dub textures and sinusoidal tones whilst a firm kick drum and fast shuffling hats propel the track toward serious dancefloor language.
Luke Solomon takes us on a journey of a post-dystopian disco where human beings have been replaced by machines and robots who have learnt to dance. A dangerously funky bassline threatens to consume all with the help of flying hi-hat saucers and an armada of synths, pads and textures. An authoritarian voice creeps out from the wilderness. If DBX had been commissioned to soundtrack 1984 in a futuristic alternative universe, it would probably sound something like this.
Released by: WetYourSelf! Recordings
Release/catalogue number: WYS!011
Release date: Mar 22, 2012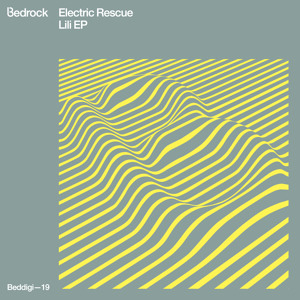 02. Electric Rescue - Lilly [Bedrock Digital | Beddigi-19]
Few French electronic music artists combine experience, avant-gardism and guaranteed success on dance floors as Electric Rescue (aka Antoine Husson) does. Having previously released tracks on Sven Vath's Cocoon Recordings, Boys Noize Records, Sci + Tech, AFU limited, Communiqué, Subject and Sign Industry, he first unleashed his distinctive brand of ultra dynamic techno and sensuality on John Digweed's Bedrock label at the tail end of 2011.
"Dope" (BEDDIGI13) was a huge tune for Laurent Garnier, Sasha, Secret Cinema, Guy J, Hernan Cattaneo, Nick Warren and Dave Seaman, amongst a plethora of diverse DJs worldwide. Now Electric Rescue returns to Bedrock with the super-strong "Lili EP", featuring three killer tunes.
"Lili" has all the ingredients to be a massive tune all summer long. Combining melodic techno attitude with a big room mentality, it has all the right ingredients. Already a huge tune in John Digweed's sets, this is going to explode to anthem status worldwide over the coming months. With the equally exciting "Opened Hands" and "Science" revealing an experimental and diverse side to the Electric Rescue musical palette, this is a very exciting EP package indeed.
Electric Rescue's reputation is already flying high in France through his residency at the Rex Club (Skryptöm parties) and organising the "Play" rave parties in Paris, Antoine Husson is most definitely a man to watch in 2012.
Released by: Bedrock Records
Release/catalogue number: BEDDIGI19
Release date: Apr 2, 2012
03. Pachanga Boys - Time (Girlcatcher EP) [Hippie Dance | HIPPIEDANCE02]
Once upon a time there were two young boys who felt they had something simple and beautiful to say. They wanted to talk of love, joy and being touched by life. Their names are Superpitcher and Rebolledo, together they are Pachanga Boys and they are trying to make the world a better place with their Hippie Dance!
Welcome to the New Church of Hippie A place of freedom, freedom of speech, freedom of mind, freedom of dance There´s no flower without power and we truly believe in a daily shower There´s no need for Patchiuli over here, we´d rather have Yves Saint Laurent´s "Opium" always near!
Pachanga Boys strongly believe in their mission of spreading the word of the "New Church Of Hippie," and now they are back with a special kit that will make every believer´s life a much better one. It´s "Girlcatcher", which consists of three charming tracks specially made to seduce your catch (girl or boy), and a special handmade tool to trap her (or him). Super limited edition of 300 copies available at Kompakt.fm only.
Released // December 19, 2011
Format // 12" ART
Catalog Nr // Hippie Dance 02
EAN // 880319566318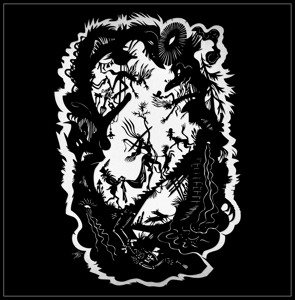 04. Of Norway - Libertine ft. Preben Olram [Connaisseur Recordings | cns048-6]


Format : 12" / Digital 
© 2012 Connaisseur Recordings
What is the definition of epic? We think it is Of Norway's newest track Libertine. A 12 and a half minute long Nu-Disco monster, mindblowing from beginning to end. Techno as it might have sounded had this genre already existed at Woodstock.
For Libertine, Preben Olram - a Norwegian multi musician and voice actor - joined the Of Norways and played live bass and percussions, as well as vocal percussions. Libertine has been the closing track of Of Norway's live set for around half a year, always causing ovations, screaming people and goosebumpish hands-in-the-air-moments.
After their winning release 'Blott Ditt Eige Lam' on Silicone Soul's infamous Darkroom Dubs imprint, and their ambientish declaration of love 'Song For Ava' on Connaisseur, which entered several chill-out charts, Libertine is the Oslo boys' next release in 2012.
We feel honoured that Offenbach deep house legend and Playhouse veteran Losoul did the remix treatment on the flipside. He did what he does best, loosening the outer flesh gently to get to the filet of the track. The result is a stripped down afterhourish deep house track with techy references and big balls. It is stunning how he transformed the original track's sweet melody into something crawling, almost spooky. Thanks Pete for this Killer!
Furthermore, cns048-6 features the next part of our Erich Proksch papercut artwork series.
Released by: Connaisseur Recordings
Release/catalogue number: cns048-6
Release date: Mar 28, 2012
05. Stacey Pullen - Circus Act (Nic Fanciulli Remix) [Blackflag Recordings | Promo]
PRESS RELEASE // Stacey Pullen - 'Circus Act'
A1: Original
B1: Nic Fanciulli remix
Released: May 7th // Blackflag Recordings
Stacey Pullen is the Kosmik Messenger. An innovator from the second wave of Detroit techno, he grew up under the mentorship of Detroit's legendary three: Derrick May, Juan Atkins and Kevin Saunderson. Still continuing to produce his characteristic atmosphere laden electronic sound, Stacey Pullen compounds his reputation as a producer with that of being one of the world's most in demand DJs, playing weekly across the globe year in year out. With a font of passion for music and performance that never dries up, Stacey Pullen still plays every gig from the heart, seeking to surprise and engage, to provide an unforgettable experience, to offer his unique catalogue up without predictability, defying expectation. Above all, from his earliest attempts to the current day Stacey Pullen has stayed true to his one goal: to become and to always be an Innovator.
Pullen spent his formative years at the legendary The Music Institute in Detroit, learning from the likes of Alton Miller, Chez Damier and Derrick May. His first production experiences came through working with Kevin Saunderson on remix work. He released his first track proper on Derrick May's experimental label Fragile in 1993 and his album debut 'Theory Of Silent Phase' was released on R&S / Transmat in 1994, under the name Silent Phase. He has also released on labels including Cadenza, Science/ Virgin,!K7, Saved, Elypsia and his own label Black Flag, under monikers including Bango, Black Odyssey, Graffiti, Kosmic Messenger and Silent Phase.
Now, Pullen is focusing on releasing on his own imprint Black Flag and is stepping up his production work in 2012:
About Circus "The track has a sample of one of my favourite tunes that I used to play when I first started DJing. I rediscovered it through a mixtape that radio Slave gave to me and thought I would give it a twist. Not knowing what the outcome was going to be, I was in the studio playing around with it and then it hit me, that this could be a really good track. Nic's the first person who came to mind when I thought who was going to remix this. By us working together for the past year and a half, collaborating on tracks, me remixing tracks on his label and playing B2B, we have established a musical bond that's strong." [Stacey Pullen]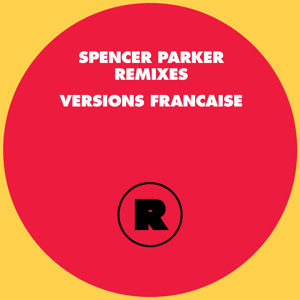 06. Spencer Parker - The Improvised Minotaur (Molly Edit) [Rekids | REKIDS061]
Spencer Parker makes a welcome return to British institution Rekids, this time reworked by two French producers - Rex resident Molly and Parisian house connoisseur, D'julz in a package comprising two of Spencer's dancefloor assaults from 2008, 'Improvised Minotaur' and 'Romantic'.
Spencer Parker, one of Europe's leading underground house DJs first made an appearance on Rekids in 2006 with the acid wonk of 'Beautiful Noise' and has since been a regular, last seen on the label in 2011 with the highly played 'I Think I Love You'. Consistently releasing tracks with verve and energy twisting classic house rawness to the beat of his own drum, Spencer's works remit a toughness as well as fuzzy melodic charm. Epic monster 'Improvised Minotaur' first came to Rekids via 'The Dreamer EP' and 'Romantic' was a digital release of the same year.
Molly's Minotaur remix for the A side is built to make you rush. An open-ended rhythmic ride rich in atmosphere with a tribal beating of drums, and an omnipresence of swelling keys and piano stabs that develops into jazzy freestyle - all with an immense sense of loose, fluid motion and dramatic percussive flair set into the solid groove. Spencer discovered Molly at Rex Club Paris, where she holds a residency. As adept at warming up the crowd as bringing the night to a climactic finish, Molly also runs her own Rex night further demonstrating her impeccable taste with bookings such as Margaret Dygas and Jan Krueger. Now moving into production and having been invited to play alongside Tobi Neumann at Weekend in Berlin recently, it seems the rest of the global scene is waking up to Molly's charms.
On the flip, D'julz serves ups a powerful builder with fire in its belly. Kicking off with no-nonsense bass and more lashings of raw percussion and shakers, the 'Version Francaise' of 'Romantic' gives the original tech banger a much deeper, rolling workout. D'julz is well recognized as a key Parisian scene player, with a career that began back in 1992. Spinning at many of the city's raves and pioneering clubs, including his own legendary 'Bass Culture' parties at Rex Club that later became a successful label, D'julz made an even bigger impact when he started releasing essential weapons in the mid-90s for heavyweight labels such as Real Tone, Get Physical and 20:20 Vision.
The Rekids imprint and Matt Edwards AKA Radio Slave, the man behind it, is still leading the way for timeless tech-house marathon music.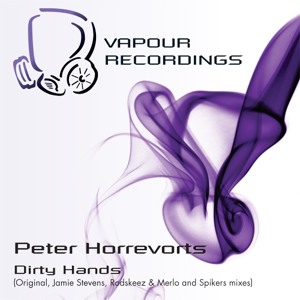 07. Peter Horrevorts - Dirty Hands (Jamie Stevens 5am Dub) [Vapour Recordings | VR102]
Vapour Recordings returns with this absolute bomb from our dutch master - Peter Horrevorts. Peter has turned in this twisted techno madness that will destroy most dancefloors. It's deep, driving and just plain dirty and it's exactly what we love here at Vapour.
Remixes come from Australia's Jamie Stevens, along with a remix from Sydneys Rodskeez and a more Tech House version from Portugal's Spikers and Merlo. This is a mix here for everyone so get hold of this bad boy and give it a spin .. Enjoy
Guest Mix:
Hour 2: Simon Caldwell
01. Christian Vance – Step 3000 (Brick Veneer Dub) [Haul Vinyl]
02. Fabian Dikhof – Around The World [Best Works]
03. Mike Callander – Twilight [Haul Music]
04. Deepchild – Riyadh [Unreleased]
05. Martyn – We Are You In The Future (Redshape Remix) [Brainfeeder]
06. Pan – Pot Feat. G-tech [Mobilee]
07. Shades Of Gray – Higher Ground (Fiord Remix)
08. Soul Minority – Retroplex (Rodskeez Sub Dub) [Unreleased]
09. Red Rack'em – Right (All Night) [Bergerac]
10. Duckbeats and Jet Project – Ascension [Extended Play]
11. Jerico – Auto Type (Yokoo Remix) [22digital]
12. Eva B – My Baby [Unreleased]
13. Nicholas – From The Roots (Bonus Beats One) [Home Taping Is Killing Music]
14. Softwar – Darkness [Future Classic]
SimonR