Topic: Transitions 402
Transitions 402
Hour 1 : John Digweed
01. Deniz Kurtel & Tanner Ross - The Beat Drops With feat. Jules Born (The Way We Live LP) [Wolf + Lamb | WLCD003]
02. Uffe - I'll Leave Soon (Catz 'n Dogz Just Leave Remix) (Colours Outside EP) [Pets Recordings | PETS20]
03. Frederico Gandin - Don't Be Alone (Roberto Bardini Deepest Mix) [Opilec Music | OPCM12032]
04. Ray Aguilar - It's Not Over (Chris Fortier Wants It Deep Dubstrumental) [Cromarti Records | CR021]
05. Mirko Loko Feat. Jaw - Harder (Featuring EP) [Visionquest | VQ12]
06. Bo Saris - She's On Fire (Maya Jane Coles Remix) [SEG Music | Promo]
07. Denis A - Black Sun (Jimmy Van M Remix) [DAR Records | DAR030]
08. Hufschlag & Braun - Train To Cologne (CoMa Remix) [ Popcorn Records | PRDIG006]
09. Extrawelt - Herz Aus Blech (Wechsel Version) (Raum In Raum EP) [Cocoon Recordings | COR12"095]
Downloads:
Hour 1 (John Digweed) >> http://www.mediafire.com/?fsmmcx186slna71
Hour 2 (Petar Dundov) >> http://www.mediafire.com/?93mzsn9k2xevm9n
Release Notes:
01. Deniz Kurtel & Tanner Ross - The Beat Drops With feat. Jules Born (The Way We Live LP) [Wolf + Lamb | WLCD003]
Effortlessly weaving entirely new sub-genres, while daring to convey their fragility, Deniz is once again inventing a fresh sound palette, combining the music with visual art and creating a deeper live experience for the tour entitled 'Double Exposure' that will accompany her new LED installation, 'The Introspectacular'. Mastering a new dexterity across the whole album, Deniz conquers stillness and rich rhythms, once again turning house on its head with an unhurried approach more in line with a hip hop pacing that enriches the sound of tomorrow, bringing attitude back to electronic music. Going beyond the realms of the expected, the striking artistic passion emanating from this petite girl from Turkey beats through every track.
With a collaborative approach typical to the Wolf + Lamb label, the artists featured are part of the tight-knit yet loosely woven family collective now termed the Marcy All Stars. Much akin to the Wild Bunch (the early Massive Attack) or Soul II Soul, their visions are explored and shaped through a fluid, dynamic and supportive experience. On the EP's selected tracks, Deniz, along with hotly tipped producers Tanner Ross, San Francisco's Pillow Talk and the young Brown university graduates Voices of Black, deliver an array of moods and sounds - from sensually sublime album opener 'I Knew This Would Happen' in a special extended version to the jazz infused 'The Beat Drops', full of deep atmosphere and heavy bass groove and animated 80s funk of 'Thunder Clap'.
Deniz Kurtel Bio
Deniz Kurtel is often mistaken for a man - perhaps because she has the balls to once again buck the trend in current underground dance music. Effortlessly weaving entirely new sub-genres, while daring to convey its fragility and combining it with visual art. In fact, she spends her time with men tirelessly touring nightclubs within a culture dominated by them, but this petite girl from Turkey goes beyond where men dare to go on her second album, 'The Way We Live', on her home label, Wolf + Lamb.
One year after her debut appeared on leading label Crosstown Rebels, and less than three since she tried production for the first time, Deniz Kurtel creates another project that's stylistically novel to her last. As on her debut, 'Music Watching Over Me', she isn't afraid to be powerful but in 'The Way We Live' she masters a new dexterity, conquering stillness and rich rhythms and becoming yet more fascinating. When discussing her debut album Kurtel says that she wants to "constantly grow and evolve, and make music that excites her, hoping it excites others too." Kurtel turns house on its head with a sultry unhurried approach more in line with a hip hop pacing that enriches the sound of tomorrow, bringing attitude back to electronic music.
As a trained artist, she can't stop creating and her creativity spawns an endless spiral of activity. For 'The Way We Live' she has again created a bewitching live tour entitled 'Double Exposure' to accompany the installation featuring her new LED sculpture 'The Introspectacular'. This is the second time Kurtel has paired a piece of LED art directly with her music, but marks the first time where the audience will be able to affect the experience. 'The Introspectacular', establishes an isolated space where the infinite reflections and layers of depth, achieved through her use of mirrors and LEDs, create a stimulus for inner-reflection and introspection. Housed in a 6x12 enclosed trailer, participants can control some of the LED lights via the keys of a midi controller, which simultaneously produces sounds, creating a visual mapping of what the participant is hearing and vice-versa.
"With the ability to generate a sound and a light with the same key, I wanted to facilitate a deeper connection with the basic senses of the participants while also engaging their sense of creativity," said Kurtel of The Introspectacular. The piece will be exhibited in twelve cities across America at outside galleries and public spaces alongside her club tour.
A 3D sculptor born to parents that were also heavily involved with art, she moved from her home in Izmir Turkey to study in New York. There she met the Wolf + Lamb duo, quickly moving into the infamous Marcy Hotel and immersing herself into the colourful creative worlds of music and art. Her light installations have been featured at destinations as diverse as Lily Allen's Lucy in Disguise vintage clothing store in London, cult art festivals in her homeland of Turkey and have taken her on many pilgrimages to the vast deserts of Nevada for Burning Man. In fact Zev (the Wolf of the duo) bought her the first set of LEDs for the festival. An installation is also a permanent fixture at the Marcy.
For her second album she assembles the Marcy All Stars, a loose collective term that encompasses her male muses, friends, partners and co-conspirers. The term comes from the aforementioned Marcy hotel in Williamsburg New York – a residence-come-nightclub-come-creative-space that gave Nicolas Jaar his first gig, inspired a multitude of collaborations and reshaped the sound of house music as we know it.
This approach of collaboration is typical of the Wolf + Lamb label. A close knit yet loosely woven family collective much akin to the Wild Bunch (the early Massive Attack) or Soul II Soul, their visions are explored and shaped through a fluid, dynamic and supportive experience. 'The Way We Live' features one half of cult dance outfit Art Department's Kenny Glasgow, whose melancholic 'Don't Wanna Be' is a heart warming highlight. The title track was produced together with Gadi Mizrahi (the lamb of the duo). Appearances from America's newest house music heroes Soul Clap feature alongside underground hotly tipped producers such as Tanner Ross, San Francisco's Pillow Talk and the young Brown university graduates, Voices of Black on the Prince like funk of 'Thunder Clap'. Thus 'The Way We Live' forms a colourful dot to dot sketch of the evolving Wolf + lamb family.
02. Uffe - I'll Leave Soon (Catz 'n Dogz Just Leave Remix) (Colours Outside EP) [Pets Recordings | PETS20]
Pets Recordings continue to thrive as a stable for forward thinking house music and its creators. Always seeking to extend their already widening sound further, label chiefs Catz 'n Dogz are constantly on the hunt for fresh, new and ultimately unique talent and having delighted us with the melancholic 'Pop' of Glimpse & Martin Dawson's "Our Friends" (don't forget to check out the incredible video) and ignited our floors with their very own "Mass Confusion / Professor Nice Love" release, the Pets are now ready to introduce an artist who's music sits proudly and creatively between the two... Uffe.
Uffe Christensen has always been inspired by sampling and experimental music. A fact most obvious when listening to his productions. Having began his creative process on his fathers old PC, it was a move to Cophenhagen, working as a DJ/booker and immersing himself within the city's music scene that really helped him develop his skills and sound. Now living in Amsterdam and having dipped his toe into many a genre, his own work as Uffe is very much a musical menagerie.
Uffe's debut for Pets is a three track delight that glistens throughout. The 'vinyl only' title cut "Colors Outside" with its sweet vocal, tickled ivories and ice cube shakers give it an Avalanches feel and confirm it as the perfect summer soundtrack. The sun has disappeared behind the clouds and night draws in on, "I'll Leave Soon." A wistful vocal over a single note bassline leads us to a dramatic build before twisted acid and warm bass take over.
Catz 'n Dogz get to grips with "I'll Leave Soon" and turn in a floor friendly, bass heavy and ultimately uplifting rework, before Uffe closes out the ep with an ode to the late 60's, "When The Sun Rose'. Wonderful cinematic and psychedelic sounds work brilliantly with its folky vocals to create an astonishing piece of music.
Played by: Damian Lazarus, Maya Jane Coles, Agoria, Martinez Brothers, Lee Curtis, Tim Sweeney, Solomun, Deetron, Axel Boman, Ripperton, Joris Voorn, Didland, Ets Everything, Adam Port, Till Von Sein, tiefshwarz, Terry Francis and many many more...
03. Frederico Gandin - Don't Be Alone (Roberto Bardini Deepest Mix) [Opilec Music | OPCM 12 032]
Artist // Federico Gandin
Title // Don't Be Alone
Label // Opilec Music
Tracklist:
01. Don't Be Alone
02. Don't Be Alone (Roberto Bardini Deepest Mix)
03) Don't Be Alone (Roberto Bardini Mix)
04) Don't Be Alone (Roberto Bardini Tech Mix)
05) Don't Be Alone (Naked Edit)
06) Don't Be Alone (Video Edit)
Federico Gandin's "Don't Be Alone" is released on Opilec Music ahead of his debut LP "Legion of Lost Dreams" on May 8th.
Federico Gandin delivers the deep techno of "Don't Be Alone" backed with remixes from Roberto Bardini.
Since being picked up by I-Robots, the Opilec Music owner, Federico Gandin has released a handful of brilliant deep house and techno EPs as well as featured on Movement Sound Recordings compilations and Derrick May's "Heartbeat Vol.2". His background as a pioneering electronic music record store (Deep Zone) owner in Italy and his love of European electronica, 60's rock, bossa-nova, Chicago House and Detroit techno bleed through all of Federico Gandin's work which makes for music with real depth. The closing track of his LP, "Legion of Lost Dreams", "Don't be Alone" is an emotive, spirited affair that develops a nagging synth and potent, rattling drums into something as hypnotic as it is stirring.
Turin's Roberto Bardini delivers three remixes that showcase the Plastic City and Eclipse Music producer's adroit touch. His "Deepest" version plunges the original's sensibilities into a melancholic, dubbed out groove underpinned with a warming Reece bass-line while his "Mix" version brings the bass to the fore in an increasingly urgent and punchy interpretation. Bardini's remixes end with a "Tech Mix" which ramps up the energy with a staccato bass-line while still allowing the feel of Federico Gandin's original vision to sit alongside pulsing stabs and an insistent groove.
Closing with a "Naked Edit", a stripped back version of the original, and a video edit which accompanies an impressive visual interpretation from Thomas Tinker and Andrea Zirio, "Don't Be Alone" is a fitting pre-cursor to a brilliant debut LP from Federico Gandin.
Release: 08th May 2012
Cat No: OPCM 12 032
Format: Digital Ahead of his debut LP, "Legion of The Lost Dreams" for Italy's Opilec Music,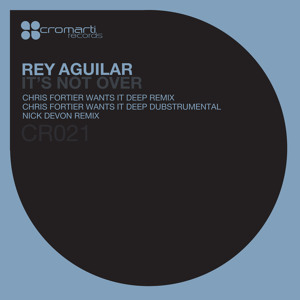 04. Ray Aguilar - It's Not Over (Chris Fortier Wants It Deep Dubstrumental) [Cromarti Records | CR021]
Rey Aguilar hails from the border city of McAllen, Texas. A true house music lover and DJ, Rey has consistently held the best house and techno residencies in town for the past 5 years and has hosted the likes of Justin Martin, John Acquaviva, Steve Porter, Danny Daze, and Tanner Ross, all while producing his own cuts and edits to play out during his gigs.
With "It's Not Over", Rey delivers a deep and percussive groove that's reminiscent of an old school disco vibe while also incorporating that fresh-sounding, warm-sub bass, and chunky production style. Featuring classic first choice vocal work, it delivers the proper funk and attitude of a contemporary underground house interpretation.
On remixes we have an excellent deep house perspective from rising Greek producer Nick Devon, and two unshakable large room dubbers from Fade Record's mighty Chris Fortier. We hope you enjoy, cheers!
Released by: Cromarti Records
Release/catalogue number: CR021
Release date: May 1, 2012
05. Mirko Loko Feat. Jaw - Harder (Featuring EP) [Visionquest | VQ12]
Prolific Swiss producer Mirko Loko makes his second appearance on the Visionquest imprint, this time with special two-tracker 'Featuring' in which Mirko collaborates on a duo of epic sonic voyages with vocalist Jaw and classical pianist Francesco Tristano.
A-side 'Harder' featuring Jaw is a room-bending head-trip that plays out with a bubbling undercurrent of sleaze. The dirty, growling bass and acid twists expertly complement Jaw's breathy, raw voice amid the warping medley of sounds and heavy bassline groove. Vocalist Jaw is part of the wayward Parisian live trio dOP and has also worked with Art Of Tones.
B-side 'Timeline' begins with more weird and twisted FX but soon a dubby groove takes over for a more hypnotic dancefloor workout. Melodic keys spread warmth through the backdrop of minimal percussion while the layered live piano motifs keep the pace and groove evolving. Pianist Francesco Tristano is a huge talent in both the techno and classical world, also integral to the incredible live performance of techno classics with Carl Craig and Moritz Van Oswald.
A key component of the Swiss dance music scene and Cadenza favourite, Mirko Loko started out DJing in the late 90s clubs of his hometown Lausanne before building his career to International stardom. Relocating to New York, Mirko formed Lazy Fat People and dropped classic era track 'Big City' (Border Community) in 2006 making a huge impact on the underground. Subsequent releases came on Mathew Jonson's Wagon Repair and Carl Craig's Planet E. After LFP parted in 2007, big things started to brew for Mirko when he joined forces with Cadenza.
Signaled by his first collaboration with boss Luciano on the 'Mousa Big Band' track for Loco Dice's Desolat, the special live visual music performance Æther and debut artist album 'Seventynine' cemented Mirko as part of the Cadenza family. Many remixes and productions and have followed and in 2011 'Gloria' on the 'Visionquest Fall/Winter Collection' became further testament to Mirko's mesmerising talents. 'Featuring' showcases yet more playful, mind-tripping originality.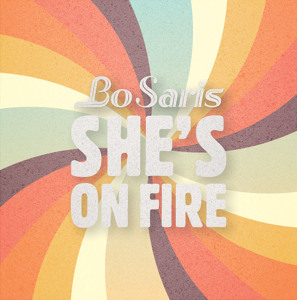 06. Bo Saris - She's On Fire (Maya Jane Coles Remix) [SEG Music | Promo]
Limited advance release info.
Fresh from her stellar debut mix CD for the DJ-Kicks series Maya Jane Coles takes on Dutch heartthrob singer Bo Saris, who is musically influenced by soul icons such as Marvin Gaye, Bill Withers, Curtis Mayfield, Prince and Michael Jackson. Although much of Bo's past work favours jazzy, soulful grooves, his recent songwriting has focused on the cornerstones of hit records – strong vocals, enticing melodies and memorable hooks. Getting MJC to sprinkle some of her remix gold dust is a shrewd move.
07. Denis A - Black Sun (Jimmy Van M Remix) [DAR Records | DAR030]
Limited advance release info
The DAR/DAR DIGITAL label group was founded by Denis A for the advancement of Russian electronic music artists, with its new sub imprint RA/DAR striving to spread the sound of modern Russia, looking to the future by bringing together a creative team of young and purposeful people who are passionate about electronic music and lovers of the best quality sounds.
"I recently returned from the music conference in Miami, which proved very fruitful and will give even greater impulse to the development of my labels this year. At the moment I'm preparing my 30th release on the DAR Label, which will include my track "Black Sun" with remixes from Jimmy Van M, Luis Junior, Dibby Dougherty, Guy Mantzur & Sahar Z, so its going to be an amazing package! I'm also working on two compilations, one of which will be devoted to the twenty year anniversary of the Kazantip Republic. I can't say more about this yet, but I'll let you know more soon!" [Denis A]
08. Hufschlag & Braun - Train To Cologne (CoMa Remix) [ Popcorn Records | PRDIG006]
Support by : Ivan Smagghe, Pezzner, Jozif, Nico Lahs, Danny Howells, Luca Bacchetti, Dairmount, Pawas, Steve Mac, AFFKT, Lee Buridge, Ewan Pearson and more...
Popcorn is proud to announce this 6th release with two new artists, Carlos Hufschlag and Patrick Braun, born in a little village near to Cologne. They discovered Electronic music only one year ago and they are already considered as confirmed and matured producers, a talent that Popcorn label is proud to introduce you today.
Train to cologne, the head title here, is a piece of deep house, which disconnects you from reality. These few minutes will for sure take you on an interstellar trip. The remix is made by CoMa, German artists known for their released on Kompakt. They reveal a pop-electro/techno song with nice ramp-ups and a cosmic touch.
Notre Dame is a tribute to Paris, Hufschlag & Braun's vision of Paris. This deep house theme is a sweet taste of summer. The lead piano brings a romantic vibe. Then comes the bass guitar follow by a melancholic theme.
Finally, Petit Prince shows another facet of Hufschlag & Braun's work. Heavy Bass, deep theme, will transport you in a soothing atmosphere. So one word: enjoy the trip in our train to Cologne.
Released by: Popcorn Records
Release/catalogue number: PRDIG006
Release date: Apr 30, 2012
09. Extrawelt - Herz Aus Blech (Wechsel Version) (Raum In Raum EP) [Cocoon Recordings | COR12"095]
Space: the extension of the three-dimensional region; an area provided for a stay, enclosed from all sides; the room-in-room concept is a solution in interior design in order to improve sound insulation in sonic environments.
Obviously, Extrawelt are currently on the roll of their lives. With their second album "In Aufruhr" from last November and the digital bonus "In Aufruhr – Nachschlag" being still on everyone's lips, the two Hamburg residents and excessive live performers Arne Schaffhausen and Wayan Raabe deliver another encore. "I don't know about other musicians, but we have the constant urge to make music. Especially the stage when the album was almost finished was indeed highly productive, many tracks emerged that didn't make it on the album, for reasons of space alone. Here, the focus was more on the dancefloor, also style-wise. Therefore, we consider "Raum in Raum" more a sequel than a spin-off, it's the exclusive completion of the "In Aufruhr" trilogy." (Extrawelt, 2012)
However, the acoustic vision of dancefloor compatibility within the 'Extra World' follows its very own patterns. Eventually, it's not about minimal functional mathematics here. The two sound wizards understand electronic music as a picture puzzle that is in constant motion, as a biological sonic reference system of the unexpected, where one involuntarily thinks of a swarm that takes to the road for some mysterious reason, and in which nevertheless each individual element imperceptibly differs from the other. Especially the title track "Raum in Raum" vividly impresses in that sense, with its massive electrostatic dynamics which later flows into melodic gravitation and thus distils the mood of a whole club night into eight sublime minutes. The "Herz aus Blech" remix modifies the harmonic elements of the original amongst piano, musical clock and bass line to an exciting discourse between Electro beats and straight Techno, almost reminding of the narrative approach that was typical for James Holden's Border Community label in the early 2000s. The completion of the three dimensions is "Zeitfuge", a bass-driven excursion to jazzy, percussive Dub House. In the digital version, the Nano Boogie Variation of the track comes ornamented with gentle Electro elements. It's a whole sound universe that is hiding in this 'room-in-room'...
Transitions 402
Hour 2: Petar Dundov
01. Noir & Richard Davis - Found Out (Deetron Sunshower Dub) [Noir Music | NMB038R]
02. Paul Hazendonk - Silly Sally (Original Mix) [Proton Music | PROTON0173]
03. Laurent Garnier - Jacques In The Box (feat L.B.S. Crew) [Ed Banger Records | BEC5161187]
04. Kirk Degiorgio - The Golden Aspect [Planet E Communications | PLE653493]
05. Rex Hansson - She (Patrick Siech Remix) [Kant Recordings | KAN0046]
06. Poison Pro - The City Of Gods [Somebodys Story | SS013]
07. Patrice Bäumel - Chase [Systematic Recordings | SYST0087-6]
08. Nuno Dos Santos - Hamming [Trouw | TRW6]
09. Phase I - Thanasis [Ipologica Recordings | IPO033]
10. Mechanique - Rainbows [Hype Muzik | 005-HMLP]
11. Paul Mac - Raw Basics 6 (Shawn Rudiman Mix) [Stimulus Records | STIM41]
12. Lone - Lying In The Reeds [R&S Records | RS1206LP]
13. Rhauder - Chord Jam (Original Mix) [Polymorph | PPH009]
14. Floris Regoort - Toi Toi [EC Records | EC093]
15. Petar Dundov & Gregor Tresher - Solstice [Music Man Records | MM159]
16. Till Kruger - 0001A (Vince Watson Remix) [Bullet:Dodge Records | BDR045]
17. Sailer and I - Tough Love (Aril Brikha Remix) [Art Of Vengeance Music | AOV005]
SimonR