Topic: Transitions 412
Transitions 412
Hour 1: John Digweed
01. Nico Lahs - After The Rain [Ovum Recordings | OVM-224]
02. System Of Survival - C'era Lacca (Rough Everytime EP) [Bpitch Control | BPC251]
03. Pentatones - Determiner (Taron-Trekka Determiner Remix) [Freude Am Tanzen | FAT 057]
04. Ultraísta - Smalltalk (Four Tet Remix) [Temporary Residence Limited | Promo]
05. Big Black Delta - Ifuckingloveyou (Sei A Dub) [Master Of Bates | Promo]
06. Dan Le Sac feat. Emma-Lee Moss - Memorial [Sunday Best Recordings | SBEST113DR]
07. DifferentME - Back To Tomorrow (Catz 'n' Dogz Remix) [Deleted Records | DEL001]
08. Nadja Lind - Limbus (Paul Loraine Remix) [Lucidflow | Promo]
09. Ahmet Sisman - Dance With White Rabbit [Culprit LA | CP025]
Downloads:
Hour 1 >> http://www.mediafire.com/?y018wu58mx66bqe
Hour 2 >> http://www.mediafire.com/?6u161nc53n60cn7
Release Notes: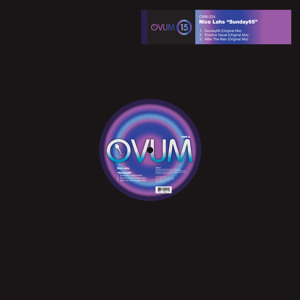 01. Nico Lahs - After The Rain [Ovum Recordings | OVM-224]
Summer rolls on and Ovum Recordings continue to deliver the soundtrack with a second Ovum release from Italy's Nico Lahs.
Nico's "Sunday 65" ep sees the label continue its stunning run of quality house releases. After owning the summer of 2011 with his "Clouded Visions" ep, Nico returns with another trio of musical gems.
The cinematic soundscape of the title track opens the ep and is backed by the warm subby bass, synth melody and bird song of "Positive Visual". Final cut "After The Rain" flows beautifully as its raindrops draw a close to yet another stunning release from Mr Lahs.
Released by: Ovum Recordings
Release/catalogue number: OVM-224
Release date: Jul 30, 2012
ISRC: US-4LK-12-02241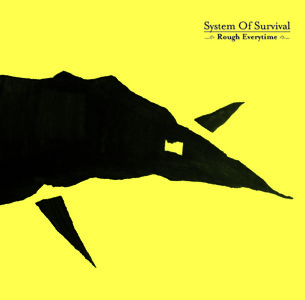 02. System Of Survival - C'era Lacca (Rough Everytime EP) [Bpitch Control | BPC251]
Dear friends of BPitch, we would like to welcome the latest addition to our label, flown in directly from Ibiza's party temple DC10: System Of Survival! The Italian DJ, remixer and producer duo Pietro "Bingo" De Lisi and Alex Carpentieri are among the elementary figures of the Ibiza party scene and the hard core of the Circo Loco / DC10 crew.
Thanks to their unerring demands on musical quality, S.O.S. continue to cement their status as rock solid stylistic bastions after more than a decade at the centre of the Balearic party madness. Bingo and Alex celebrate their BPC debut on their current 12" "Rough Everytime" with vocalist Anna Gi.
On the opening track "X-Pert" she sings a line with a classic soul feel over a reassuringly familiar 808 beat and wistful house piano chords.
"C'era Lacca" takes precisely the time and space it needs to extend the mood of the opener using arching melodies that hazily drift over the slightly restrained tech-house beat. "Lego" signals a break from this haunting atmosphere its deep-down bass line and precisely placed house elements make the track an absolute floor-filler from the very first bar.
Those still hungry for dance floor action will be delighted with "Genny Casanova": after a lovingly composed introduction the track develops to its point of highest tension, then drives its wonderfully old-school sound straight ahead. Rarely do atmospheric intensity and dance floor energy complement one another as perfectly as on "Rough Everytime".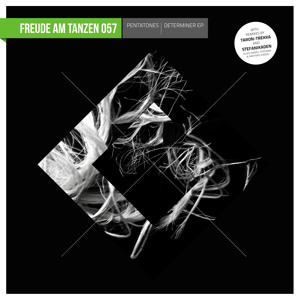 03. Pentatones - Determiner (Taron-Trekka Determiner Remix) [Freude Am Tanzen | FAT 057]
Greetings from a new name in the artist inventory from Freude am Tanzen! The four-person band Pentatones released in February 2012 their album The Devil's Hand on Lebensfreude Records. We highly recommend that you immediately acquire and savour such excellence. The live characteristics of the Pentatones are just as much a tender morsel for the body as for the spirit.
The special dance floor-compatible song "Determiner", which has also been solidly remixed from Taron-Trekka as well as Mathias Kaden & Daniel Stefanik, takes care to get a little love from the club landscape.
Completely unknown in the FAT-environs, these musicians are not. The singer Dehlia and button pusher Albrecht Ziepert have already contributed with their acoustic talents a little something to not a few releases on FAT and Musik Krause. Additionally the Leipzig combo is from Thüringia. You could say they are friends of the house. The describe themselves as "Mosaic Beat Ensemble". The strength of their unique sonic-scape is somewhere in the combination of a split between experiment, art, club and concert hall. In April 2012 they performed a concert in the Central Theater Leipzig together with the MDR-Synphony orchestra. Now the Pentatones are here on the club stage and with the devils hand and instruments making the label name the program. Completely saturated through two treatments of fully-explosive rhythm, with varying approaches that make quite a distinction. The dancing throngs will most definitely NOT be strangers fully of their own accord.
Taron-Trekka Remix - the duo connects their own signature with a grappling deepness with the off-balanced structure of the original. With courage manifest in sounds from the ghost train the whole inadvertently slips into a house-punch. Original "Determiner" live over the speakers transports to an auditorium chords of thrilling dance. The way it should be! The power lies in the swinging electricity between the toot alarm, aggressive vocals and a rhythm structure that brings everyone to dance.
StefaniKadenPentafunk Remix - also the two buddy's Daniel Stefanik and Mathias Kaden aren't at all shy when it comes to Dehlia's voice. They take 12 minutes, to create an epic club-smasher divided into separate regions. The first half carries the voice, a contra bass loop, diversely placed horns and this groove the two are quite fond of. At once, daybreak, dream wanderer sounds sweet-talk you consciousness. What's that there? Yep, that's it.
Released // July 16, 2012
Format // 12"
Catalog Nr // Freude Am Tanzen 57
EAN // 880319583117
04. Ultraísta - Smalltalk (Four Tet Remix) [Temporary Residence Limited | Promo]
Probably best known for his production work with Radiohead, Beck or Charlotte Gainsbourg, Nigel Godrich is also a respected musician that you've probably seen playing guitar and synths with Thom Yorke's Atoms For Piece ensemble. Lately he's been working with L.A. drummer/producer Joey Waronker and London artist Laura Bettinson on a new mysterious project called Ultraísta.
Their debut single is called "Smalltalk" and it's currently streaming on SoundCloud and YouTube. The song is a sophisticated piece of electronica with intricate programmed beats, eerie synths and some beautifully spare vocals by Bettinson.
Ultraísta // Laura Bettinson, Nigel Godrich and Joey Waronker - Debut Album Out October 2 On Temporary Residence Limited
Ultraísta–the multimedia trio comprised of vocalist/artist Laura Bettinson and multi-instrumentalist/producers Nigel Godrich and Joey Waronker–will see the U.S. release of its self-titled debut album October 2 on Temporary Residence Limited.
Founded in London in 2011 on a mutual love of Afrobeat, electronic and dance music, visual art, and tequila, Ultraísta has created 10 tracks of exquisitely crafted electronic kraut-pop for this phenomenal first outing.
Favouring mantras over traditional choruses and distilling their compositions to the barest essentials, the band possesses the kind of masterful control over the pure anatomy of a pop song that only comes from having played a significant role in redefining the form in the 21st century.
Evidence of the above has already leaked in the form of the tracks "Smalltalk" and "Static Light,"
05. Big Black Delta - Ifuckingloveyou (Sei A Dub) [Master Of Bates | Promo]
Big Black Delta (the brainchild of former Mellowdrone member Jonathan Bates) doesn't simply begin and end with the music – from the explosive live show featuring dueling drummers, live vocals, dancing and an orchestrated light show using visual elements of the bespoke album artwork (created by Jonathan himself and creative director Caspar Newbolt), this project is an audio visual assault to the senses in the best possible way.
No stranger to pushing boundaries, LA based Bates was until recently the driving force behind alt.rock favourites Mellowdrone, has been heavily involved in M83′s live and studio sound and has also worked with the likes of White Sea among others.
After leaving Mellowdrone in 2010, Bates bought a laptop from close friend Alessandro Cortini (Nine Inch Nails, SONOIO) and began sound-designing and circuit-bending. This musical re-discovery, combined with Bates' favourite dinner table conversation, UFO folklore lead to the creation of Big Black Delta.
In 2011 Jonathan posted a number of his original tracksas free downloads on his official website. Due to overwhelming demand for the tracks, he decided to form his own label; aptly named 'Masters Of Bates' so he could put out his own music
Big Black Delta will hit the road in August supporting M83 and Jane's Addiction. In addition to the support dates, Big Black Delta will be performing several intimate headline shows. All dates are below.
06. Dan Le Sac feat. Emma-Lee Moss - Memorial [Sunday Best Recordings | SBEST113DR]
Sunday Best Recordings was est. in 1997 by Rob Da Bank - the label in the early days was best known for releasing groundbreaking eclectic compilations that introduced the world to then unknown artists such as Groove Armada, Lemon Jelly and Bent. in 2011 the imprint released the debut solo album by Hollywood icon David Lynch.
Dan le Sac released his debut solo album Space Between The Words on Sunday Best on July 9th. Written, produced and with vocals from Dan himself, the album features collaborations with Emmy the Great, Merz, Sarah Williams White, B Dolan, Joshua Idehen and Pete Hefferan.
Taking a step sideways from the percussive atmospherics that were the backdrop to Scroobius Pip words' on their Top 40 albums 'Angles' (2008) and 'The Logic of Chance' (2010), Dan embraces everything from electro-pop to psychedelia, all accompanied by an impressive array of vocal talent.
'Memorial' is a delightful surprise, it has a touch of Shirley Bassey Bond theme about it, albeit filtered through clubbier beats. Memorial is the second official single from the LP.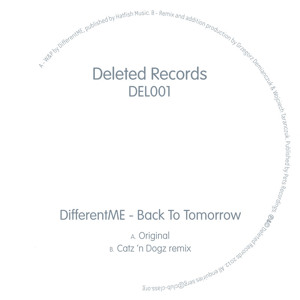 07. DifferentME - Back To Tomorrow (Catz 'n' Dogz Remix) [Deleted Records | DEL001]
Deleted Records returns to the market with a complete makeover and a new eclectic sound. Featuring a range of beats both broken and 4/4, Deleted will be covering electronic output across the entire spectrum. With Deleted 01, the label presents the debut release from the extremely talented DifferentME. 'Back To Tomorrow' ticks all the right boxes. Featuring solid drums and pulsating basslines, the lead chords and vocals work together perfectly to create total dance-floor damage. Over on the B side, Catz n Dogz work their magic on the track with a creative and intelligent remix that explicitly shows the reason they are one of the most in demand production duos around today.
Released by: Deletedrecords
Release/catalogue number: DEL001
Release date: Jul 2, 2012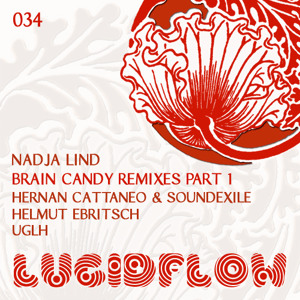 08. Nadja Lind - Limbus (Paul Loraine Remix) [Lucidflow | Promo]
Nadja Lind may be riding on the crest of the recent release of the Klartraum album Secret Moon, but this doesn't mean there is any time to be resting on some considerable laurels. Nadja's solo album from last year, Brain Candy, will be coming up for its one year anniversary on 22nd October 2012, and what better ways to celebrate this than to bake a cake, call in a selection of proven and quality producers for some remix duty, and get them to decorate the release with their various sparkly bits.
The Brain Candy remix roster reads like a who's who in the techy and fluid House world: Hernan Cattaneo, UGLH, Helmut Ebritsch, Yapacc, D. Diggler, Sweet' n Candy, Saytek, Ali Khan, Franco Bianco, G-Man, Dub Taylor, Trinity & Beyond, Paul Loraine, Blatancy, Steve Ward, Sasch BBC, Silky, Helly Larson, Markojux, Grünbox and Eddie Richards.
This emphatic scattering covers most of Nadja's favourite producers, whose releases can be found punctuating her vinyl collection in the basement at Lucidflow HQ. There were actually rumours that they had all been locked in this basement, with basic rations, until the remix work was complete. Although the (slightly less sinister) reality was that they jumped at the opportunity with wide eyed glee! The result is practically an entire record collection all under one release.
Now, before you all drag out your sleeping bags and sit pressing F5 until the internet tells you that this release is available to buy, the first of many tasters is due to hit on 8th August 2012. An EP so delicious you can feel it inserting calories directly into your body via your eardrums: Brain Candy Remixes Part 1. Luckily, the material provides the perfect excuse to shake off any excess podge rolls.
A Choice, Limbus and The Preach see full fat interpretations from Helmut Ebritsch, Hernan Catteneo & Soundexile and UGLH.
The "dub with pump" that is A Choice (where the choice in question appears to be a rather straightforward "dance or dance?") appears in original album form, with Klartraum partner-in-crime Helmut Ebritsch stepping in with a remix. Helmut's touch gradually peels away the outer layers of dark dub, to reveal a sprightly centre of bright synths and micro vocal samples, all set to a heartbeat march of bass and beats.
Hernan Catteneo needs little introduction; his early beginnings with Perfecto branched out into appearances on Bedrock, Deep Dish's Yoshitoshi offshoot Shinichi, all resulting in a residency at The Gallery @ Ministry Of Sound and electrifying production relationship with studio partner Soundexile. As long time supporters of Lucidflow, it was a perfect opportunity to lend their trademark light, melodic and flowing productions skills to Limbus, taking the introspective original and floating it through the skies.
UGLH pick up the baton by plucking this breathy groove out of the clouds, diving straight down underground and turning in an robotic disco funk remix of The Preach. It's easily the sort of sound that the likes of Digweed use to shake basements like Fabric and his own Transitions series on regular occasion. With productions littering 8bit, Great Stuff, Noir Music, CR2, Monique Music, plus an existing remix of Klartraum's Growth under their belts, maybe we shouldn't be too surprised at the quality of UGLH's waveforms. This is, unless, you are the sort of person who is surprised each day at grass being green and concrete being hard. If so, you are in for repeated treats.
Just to push you to full to bursting status, there is another chance to relive the original demented and twisted skip of The Preach, containing all those devilish noises your mother warned you about in six minutes of microcutting delirium.
Digest, enjoy and don't accept semi-skimmed beats as an alternative, indulge in the naughty stuff.
Release Date : 8.8.2012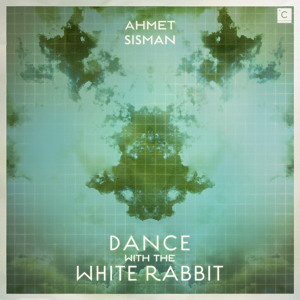 09. Ahmet Sisman - Dance With White Rabbit [Culprit LA | CP025]
Expanding on its global mandate, Culprit touches down in Germany in its talent search. Essen-based Ahmet Sisman is the next new artist to be added to the labels burgeoning clan of contributors, with Dance with the White Rabbit EP - two originals of sparkling and exciting electronic house. Nico Lahs and Audiofly, long friends of the label, add their skills and charisma remixing the anthemic title track.
Hour 2: Umek - Live at Revival Discoteca, Alicante
01. Marco P - Maschinenmusik [Turning Wheel]
02. The Sloppy 5th's - Crazy Juice [Re:Sound]
03. John Lorv's & Underground - Underground [Lorvs]
04. Dumi - Pulse [Stanch]
05. Elay Lazutkin - She Is [Neptuun City]
06. Koen Groeneveld - Superjet [Abzolut]
07. Roy Rosenfeld - I Am Fat Let's Party [1605]
08. Stefano Noferini - Q Factor [100% Pure]
09. Ahmet Sendil - You So Strong [1605]
10. Matteo Dimarr - Can't Stop The [Mar186]
11. Alex Millenium - Freaky Stuff [Neptuun City]
12. Umek - Slicing & Dicing [1605]
13. Phunk Investigation - Jungle Bells [Promo]
14. Umek - Let's Go [Deeperfect]
15. D-nox & Beckers - Jet Lag Slave (Koen Groeneveld Remix) [Baroque]
16. Tomaz & Filterheadz - Sunshine (Umek Remix) [1605]
17. Peter Bailey - Bring You Up [Local Music]
18. Marco Bailey & Redhead - Firestone [Mb Elektronics]
19. Umek - It Is Simple But It Works Like Fuck [1605]
Last edited by simonr (Monday Jul 2012 21:51:02)
SimonR