Topic: Up On The Roof...w/ Norman Jay - 3 hours Good Times Set
Up On The Roof
Summer Closing party
15th September
2pm - 12am
@ The Prince of Wales
Tickets:
http://www.residentadvisor.net/event.aspx?508279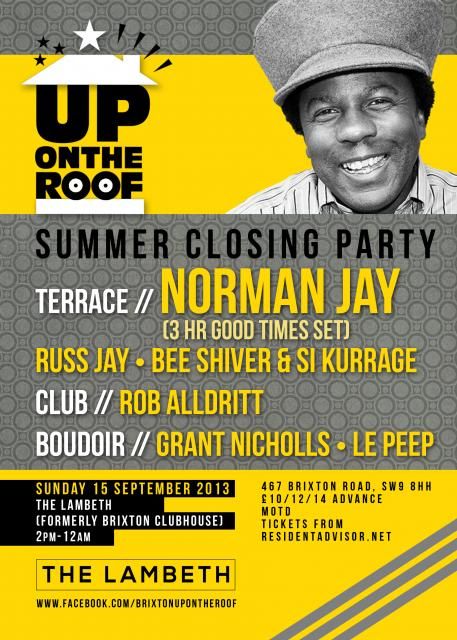 Up On The Roof... summer parties on the stunning rooftop terrace at The Prince of Wales (formerly Brixton Clubhouse/ the Lambeth) right in the heart of Brixton. Expect a diverse fusion of everything from hip hop, soul, disco from some of the most influential DJs of the past 30 years.
For the last UOTR of the summer, we are joined for the 3rd time of the year by none other than Mr Norman Jay.
As the Good Times founder, Member of the British Empire and all round good egg, Norman has represented the entire spectrum of black music, from soul, funk, disco, reggae and jazz, right through to the more contemporary sounds of house, garage and drum'n'bass.
Norman's legendary Good Times sound system, has been the go-to spot at Europe's largest street party, the Notting Hill Carnival, for 30 years.
Good Times was THE party that changed the face of the Notting Hill Carnival and which has become a Summertime fixture at festivals worldwide. Jay set up his first sound system, Great Tribulation, in 1979 with his brother Joey which became Good Times in 1981, the start of a 30-year residency at Notting Hill Carnival. Norman changed the face of the music played there, introducing a range of gritty, soulful styles to complement the predominantly reggae-based sound systems. The move paved the way for the open-minded Carnival we know today, with Good Times still at its core.
Alongside Norman we have drafted in fellow 'Jay', Russ to the terrace for the first time, alongside residents across the venue.
Terrace //
Norman Jay (3 hours Good Times Set)
Russ Jay
Mister Shiver & Si Kurrage
Club //
Rob Alldritt
Boudoir //
Grant Nicholls. Le Peep