Topic: Slide & Get Diverted NYE w/ Derrick Carter Does Disco
Slide & Get Diverted NYE 2013
w/ Derrick Carter Does Disco
@ The Prince of Wales, Brixton
9pm - 6am
Club //
Derrick Carter Does Disco (3 hours - midnight set)
Casio Social Club. Elijah Collins. Rob Alldritt. Lloyd Wakeman
Boudoir //
Rich Smith. Justin Steel & Dave Ritchie (Tangerine DJs). Katy Lucas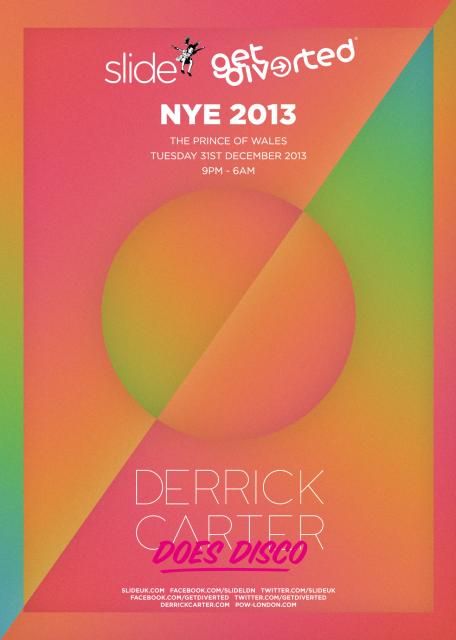 After the success of the last 2 New Year parties with Todd Terje & Greg Wilson, Slide and Get Diverted team up again to bring in 2013 at The Prince Of Wales with house legend Derrick Carter doing his disco thing in Brixton.
After the ace Slide terrace party in May with Derrick, the Chicago native will again be deviating from his usual boompty leanings, and this is a rare opportunity to see him indulging his disco streak. Expect classic cuts, rare grooves and some seriously 70s dancing as Derrick digs deep into his record collection to impress even the most ardent disco fan.
One of the most recognisable and respected figures in electronic music, Derrick has been at the forefront of authentic Chicago House for over 20 years and proven influential across a wealth of genres and scenes. Renowned for his innovative approach to both production and DJing, Carter released his debut album 'Squaredancing In A Round House' to critical acclaim in 2002 and has since gone on to collaborate with the likes of Yousef and release mixes for Fact, Mixmag and FabricLive. With Luke Solomon, Carter founded the Classic label in 1996 and released the likes of Tiefschwarz, Freeform Five and Isolee over the course of ten years.
Support comes from Mullet Records label twins Casio Social Club & Elijah Collins plus residents Rob Alldritt, Rich Smith and Lloyd Wakeman, Tangerine DJs Justin Steel & Dave Vincent and Katy Lucas across the venue.
Tickets:
http://www.residentadvisor.net/event.aspx?519066
Facebook Event:
https://www.facebook.com/events/201520820025858/?ref=5