Topic: Steven Libby Firestone Daley Padley/Miguell Santos & Dush Rmxs Out Now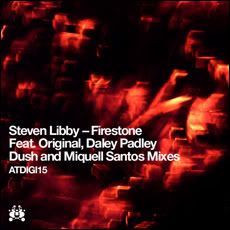 Out Now
Buy On Digital Download
We bid a warm welcome to new signing Steven Libby here at Audio Therapy HQ
and what a debut he makes. 'Firestone' is a tribute to the legendary club of
the same name in Florida which has been home to many great nights and the
track is full of the diverse influences Steven has experienced there.
Along with the original we have remixes from the fresh talents of Daley
Padley, Dush and Miguell Santos. Daley Padley caught our eye with his
'Tigerstyle' track on 1 Trax at the end of last year and turns out an
excellent main room style mix. Danish producer Dush has remixed the likes of
Richard Grey and Harry Choo Choo Romero and gives us a nice deep housed-up
groove based excursion. Miguell Santos is another name to watch after his
remix of Polefolder's 'Love Chemical' got a load of attention and some major
club support, with an upcoming remix on Rebirth his success looks likely to
continue.
So there we have it, our first release of 2009 and a package of 4 very
different mixes. We hope you like.
Reactions
Hernan Cattaneo - first two mixes for me
Orde Meikle(Slam) - nice stuff
Funkagenda - cool tracks
DJ Hell - i will check it and play it !! xx Hell
Nick Warren - dush mix for me
Oliver Moldan - love the santos remix
Nils Nurnberg - i like the miguel santos and dush mix... nice vibes! gonna give them a spin for sure! thx for sending this through.
Alex Dolby - i like the miguel santos trip!!
Remy - Dush remix for me
Markus Schulz - Santos mix
Slacker - solid mix, nice one!
Jody Wisternoff - Digging this, will test out the mixes over the weekend !!
Chris Fortier - original with "hints" of lsg. miguel santos good effort too.
DJ Vibe - Hot tracks! Thanks!
Jamie Infusion - My remix pick would be the Miguel Santos remix followed closely by the Dush mix. cool stuff, guys! x
Christian Cambas - Will definitely be playing the Original Mix. The Dush mix is also very good.
Mathias Bradler(Mashtronic) - Daley Padleys Remix is my pick here!
Anil Chawla -The Daley Padley mix is nice and funky.
Nico De Ceglia - The Miguel Santos rmx is ok
Patch Park - Preferring Miguel Santos's.
Matthew Hoag - Hello Guys, thanks for sending me this, i dig the Original mix , cool sound!
Dualton - i like the miguel santos remix. deep! thx …
Fiord - very nice release. The Original is stunning. deep hipnotic atmospheric goodness! very nice!
Rob Salmon - Was into the Miguel Santos rmx, will play.
Gomez(Ward) - good m.santos mix, would love to have the snare he uses more in the track. however, good bridge track for later in the night. thanks for sending, gomez werd. san francisco
Jamie McHugh - Miguel Santos mix is awesome :-)
Sarah Main - cool
Montero - Daley Padley strongest for the dancefloor!
Kriece - Miguel Santos remix for me - nice!
Harada - hello, this is a good package. not the kind of stuff what I prefer to play but I will try the Miguel Santos mix. thank you. harada
Eelke Kleijn - Really feeling the groove in Miguel's mix!
Steve Parry - Dush mix sounds rather cool, Original is quite cool too!
Aldrin - Peaktime rocker!
Jono Fernandez - Love the Miguel Santos remix. Will be giving it a spin for sure

Stel - Miguel Santos mix is the best of the bunch for me. Thanks
Stefan (progressive-world.at) - wow, awesome original mix! deep progressive house the way i love it! miguel santos mix is quite driving and deep too! reminds me of the progressive at the beginning of the century dush mix is nothing special for me, good filler though! daley padley mix should be great for a packed dancefloor!

Hybrid - Love the Firestone Original mix. Seriously lovely bassline Quality Chrisbrid
Steve Mill - yea daley padley's remix is the one i choose! nice groove in there!
Paul Thomas - The Dayley Padley mix is ok, will roadtest.
Florian Kruse - I'm into the "Daley Padley Remix", but I'll also play the "Dush" and "Miguel Santos Remix" - these both are working as tool for me. cheers, florian
Marko Nastic - like daley padley rmx
Anthony Pappa - All of the tracks are great and l will use them when possible. Good release.
Omar Neri (Presslaboys) - miguel santos version are our minimal-groovy choice
Luis Bonias (La Factoria)- Nice ones..Daley Padley Rocks !!!
Kazell - Nice release ! fave mixes are Dush and Daley Padley Cheers K
Dean Milson (inthemix.com.au) - A really well rounded release in my opinion. All the mixes have something for a different time or place. The original mix is probably my favourite, nice and deep and dense, what i used to love about progressive house. Miguel Santos' mix will probably get the most plays from me and i'm interested to hear how the Dush remix goes down also.