Topic: Transitions 388
Transition 388
Hour 1: John Digweed
01. Goldfrapp - Strict Machine (Jamie Jones Remix) [Mute | Promo]
02. Nico Lahs - Not Alone Anyone [Rue De Plaisance 3 | R2P003]
03. Daso - Dan Lyke [Popcorn Records | PR002]
04. Anonym - Changing Cities [Bass Culture Records | BCR021-6]
05. Tom Budden - Vesper [ALiVE Recordings | Promo]
06. Chaim - Robots On Meth feat. Jaw (David K Bubble Mix) [BPitch Control | BPC246]
07. Richie G - Eterna [Bedrock Digital | Beddigi-16]
08. Richie G - But Her Fly [Bedrock Digital | Beddigi-16]
09. Caytas & Patz- Are You Afraid (Joel Mull Dub Edit) [Truesoul | TRUE1233]
Download >> 256kbps Quality http://depositfiles.com/files/0okiyc4ch or http://uploaded.to/file/rltrqqdh
192k separate mixes:
John Digweed : Hour 1 http://hulkshare.com/enfc8xlpmu7l
Guest Mix - Leon : Hour 2 http://hulkshare.com/jvbsd0o85zde
Release Notes:
01. Goldfrapp - Strict Machine (Jamie Jones Remix) [Mute | Promo]
No release info as yet.
2003's 'Strict Machine' was written by London group Goldfrapp and Nick Batt for their second studio album Black Cherry - here Resident Adviser poll topper Jamie Jone's takes things back onto the dance-floor for 2011 with a very hip remix.
Described by an RA staffer as 'The chillest bro in dance music' the rise of the Hot Creations boss is more down to hard work. Jones was billed at circ. 142 gigs in 2011, which means he nearly averaged a set every second day. Couple this with a lauded fabric CD, a whole host of remixes and the expert co-curation of a label that came to define the sound of clubland in 2011, and you're left with a simple equation. The hottest tracks + the most gigs = the #1 DJ of 2011.
02. Nico Lahs - Not Alone Anyone [Rue De Plaisance 3 | R2P003]
Tracklisting:
A1. Never Ending Space · 7:12
B1. Not Alone Anymore · 7:35
B2. I Need Your Love (Rhodes mix) · 7:16 · Vinyl only
I Need Your Love (dub mix) · 7:06 · Digital only
Never Ending Space
Nico Lahs
Rue De Plaisance 3 · Ref: R2P003 · January 2012 · 12 inch
As we celebrate the start of 2012 Rue de Plaisance looks to build on his momentum with an impressive debut from Italy's hottest young producer, Nico Lahs.
Having made an initial impact in 2010 through his debut, it was Nico's 2011 "Clouded Visions" EP for Ovum that really shot him to fame. The three track release became the soundtrack to last summer, confirmed by its inclusion in many end of year polls. Hugely supported, the ep kick-started an impressive second half to the year for Nico that saw his music included on exclusive compilations for Culprit and Ovum.
His four trackers for Rue de Plaisance sees Nico in full flight, moving effortlessly from the throbbing electronic grooves of lead track "Never Ending Space" to the deeper yet equally 'ruff' bass funk of "Not Alone Anymore." On the flip we find Lahs in a more thoughtful, emotional mood as we are treated to two versions of "I Need Your Love." The blissful 'Rhodes' version and the slightly more stripped 'Dub.'
300 limited copies will be delivered with a two sided artist poster for the first ones
03. Daso - Dan Lyke [Popcorn Records | PR002]
Soon from Berlin's Daso .. Out very Soon... Already supported by Justin Martin, Danny Howells, Hernan Cattaneo, The Revenge, Alland Byallo, Soul Clap, Ray Okpara, Martin Landsky, Arnaud Le Texier, Nick Warren, Death on the Balcony, Nico Lahs, Jimpster, Adam Port, Motorcitysoul, Anthony Collins, Satoshi Tomiie, X-Press 2, Way Out West, M A N I K, Silicone Soul, Spencer Parker, Feygin, Ewan Pearson, Deetron, and more…
Popcorn Records was founded in 2010 by Parisian artists brought up in an electronic music environment. The label aims at creating, producing and distributing a high quality music uniting artists from very diverse backgrounds. Popcorn Records helps these young talents mature and express their innovating ideas.
Enhancing our artists' value and publicity is the most important aspect of Popcorn Records. With this goal in mind, the agency organizes and showcases many events, allowing good music to get out there, without betraying the artists respective identities. From good old House music to innovative Deep House, Popcorn stands out by covering a large spectrum of digital music including Minimal Techno and even Funk.
Digital production and all the new means of distribution available nowadays enable Popcorn to achieve its main goal: Unite artists and Broadcast music.
Popcorn Records' development project is rich and ambitious: to make a name for oneself in a world overflowing with talents. This artistic and cultural communion opened up the path to success for Popcorn Records.
Daso bio
Imagine somebody who was born in Poona, India. At the age of five, he used the dance floor of his father's disco as a playground. All this as well as growing up with the music of Miles Davis, Hendrix and Radio pop.
Daso is one of the most talented acts in the recent electronic music circus. Out of the blue, Daso's debut record "Daybreak" (MBF Rec., 2006) turned into a long run success for the Techno peak time moments in clubs around the world.
Like many others, Spectral Sound became attentive to Daso's music and decided to publish the young artist living in Cologne. "Meine" was a result of this intervention, a truly extraordinarily techno hymn.
Daso impresses everyone with a wide range & diversity of work. From Disco-House with 80's pop afterburner on MBF to Minimal on Connaisseur records, where he published "Thujon". The track, which was the climax on the Mixmag's Dubfire Compilation, investigates the depths of smashing Italo disco and positively charged Hi-Tech-Trance.
Daso releases on labels such as Flash Records, Session Deluxe, Motor Music and more. His tracks are played by many prominent DJs and can be found on countless compilations. His specific "Pop approach" is a constant element in his work. Its no wonder he has produced a songs for German speaking Pop songwriter, Jens Friebe, and his album "In Hypnose" (2005).
Daso ultimately reveals his true talent in his live performances. From emotional House, which abruptly and unexpectedly changes into Rave hymns and hard Techno. He controls the crowd by creating ecstatic moments through perfectly timed change of styles. Above all, this rare talent is an extraordinary performer on dandy level, with elegance and style.
Quoting the words of our protagonists "Music and love are the most important things in my life, and this message I want to spread through my songs. Love not only to people but to all kind of beings and things."
04. Anonym - Changing Cities [Bass Culture Records | BCR021-6]
As we enter 2012 Anonym makes his much anticipated return to D'julz Bass Culture Records with another choice three track selection backed by a brace of mixes from no less than David Duriez, making his return to production for the first time in four years.
"I am in love with Anonym since a few years i want his babies!" Axel Boman
"awesome to have a David Duriez mix" Anja Schneider
"Super solid EP from Bassculture once again" Jimpster
"Amazing release, one of the best labels for me at the moment" Nick Curly
Also played by Ryan Crosson, Deetron, Ryan Eliott, Ame, Kiki, Franck Roger, Raresh, Alex Celler and more…
05. Tom Budden - Vesper [ALiVE Recordings | Promo]
No advance release info
Tom Budden Bio
The rise of Tom Budden epitomises what can be achieved when a dance music obsessive channels all that dancefloor enthusiasm wisely. By patiently building a reputation and not being afraid of the graft as well as the good times, he's carved out an enviable position for himself as an in-demand DJ, producer, label owner and promoter.
Presenting a thoroughly modern sound that has furrowed paths at both the deeper and the more driving end of the spectrum, his DJ sets are renowned for being precision tuned perfectly for the vibe, the venue and time of night… or indeed day.
With a string of high profile gigs at UK clubs including Ministry of Sound, Sankeys, Shindig, matter at the 02 and Cocoon at The End, his international profile has taken off in recent years too. Whether it's smashing it at Kristal in Romania, touring Australia and Asia alongside James Zabiela or joining James and Nic Fanciulli's legendary DJ tag team at the Snowbombing festival in Austria.
He remains loyal to his hometown crowd in Southampton too, with an ongoing residency at the infamous High Tide Boat Parties, which he also helps promote. It was from this party pedigree that he took another major leap in 2008 and launched his own label, the respected ALiVE Recordings.
The label's tenth release, Tom Budden – 'The Tree Dance' was a real milestone for both the imprint and its owner. It appealed to some of the finest ears from across the board and was snapped up for a range of CD mixes including Global Underground and Subliminal.
You'll also hear his touch on remixes including Tijuana's 'Groove Is In The Air' for Bedrock, Danny Howells 'Laid Out' on Dig Deeper, James Zabiela 'Blame' on Renaissance and Groove Armada 'History' featuring the vocals of Will Young.
Tom's popular ALiVE show on Proton Radio has been running for 7 years and he's dropped successful guest mixes for internationally syndicated radio shows including John Digweed's Transitions, Carl Cox's Global and Mark Knight's Toolroom Knights.
If there was a textbook on building solid credentials for clubland success then Tom Budden should have written it. He's methodically earned a position as one of the most exciting names in dance music, and his continued ascent looks as sure-fire as his enviable track record.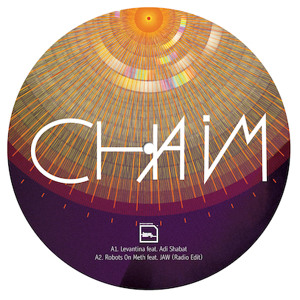 06. Chaim - Robots On Meth feat. Jaw (David K Bubble Mix) [BPitch Control | BPC246]
Chaim's unmistakable sense for walking the musical tightrope between energy-laden house beats and seductive pop epics is what has made great works such as his current and highly acclaimed album Alive possible. Now it's finally time for the third single release Robots On Meth.
The 12" begins with an unreleased track: Levantina combines no-frills, rolling, jacking beats with opulent synth melodies. The drama really starts to unfold with the introduction of the vocals from Adi Shabat – a prominent music journalist by trade and a fellow music producer, also hailing from the city of Tel Aviv. The following three titles on the 12" are dedicated entirely to the Robots On Meth, who are first set to pure indie-pop mode for the Radio Edit.
The flip side offers two complementary remixes from Paris-based David K, a regular fixture on Cocoon Records and Freak n' Chic who has remixed artists such as Guy Gerber. On the BenZona remix, David strips the Robots down to dancefloor-friendly tech-house beats and the raw spoken voice of guest vocalist JAW (dOP). The Bubble Mix – as the name suggests – surprises the listener with cosmic sparkling old-school synths that sit perfectly with JAW's laid-back vocals and make Robots On Meth a top-grade listening and dancing experience – and one without side-effects or legal repercussions…
Released by: undefined
Release/catalogue number: BPC246
Release date: Jan 16, 2012
[RA Review]
Chaim has an uncanny grasp of what makes a dance floor tick, but still has the ability to combine it with a pop sensibility. "Robots On Meth" is the third single from last year's Alive, but frankly in edit form it's only here for reference purposes. For the record, this sees JAW's ennui-laden vocal spliced to a Cure-style bassline and scratchy percussion.
It's an unreleased Chaim track, "Levantina," which might just garner the biggest plaudits. Featuring the soft, porcelain-fragile vocals of Tel Aviv producer/DJ/journalist Adi Shabat, it rides along on a jacking rhythm, underpinned by a wobbly synth motif doing battle with evil digital swooshes. Break it down to its constituent parts and there's loads going on—but taken as a whole, this is spacey, dramatic music-making of the highest order.
Paris-based David K has been seen in all the right places of late, with productions on Visionquest and Tsuba in the past year. His BenZona remix of "Robots On Meth" is like some fluid, hot-blooded, tech house flamenco, with spattering handclaps and regular bass runs up and down scales. His BubbleMix is an altogether more strident, darkly aggressive affair, an oscillating analogue phrase turning back in on itself like an endless knot, with a smattering of celestial space synths laid over the top.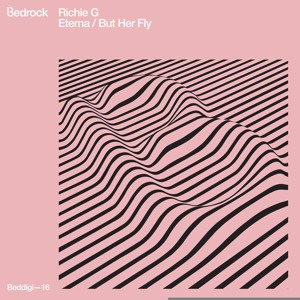 07. Richie G - Eterna [Bedrock Digital | Beddigi-16]
08. Richie G - But Her Fly [Bedrock Digital | Beddigi-16]
Richie G is a prodigiously talented eighteen-year-old electronic music producer and DJ from Montreal, Canada, who you should already have on your music radar having released his debut, self-produced, "Baum" EP on Haçienda Records last year and his previous remixes for Traum and, not forgetting, Luis Junior's "BG" (Bed91) when he was only fifteen!
He has received great support from within the Montreal scene and from this springboard has also pricked up the ears of major names such as John Digweed, Sasha, James Zabiela and Hernan Cattaneo (who along with Jesper Dahlback also remixed "Vorbendacht" from the "Baum" EP).
"Eterna" and "But Her Fly" display all the hallmarks of the supremely sumptuous techno-edged electronic music that Richie G produces. Euphoric, beautiful, highly individual and inventive in equal measures, his depth of musical knowledge and finely honed production skills belie his young age. Bedrock brings you two superb tracks from one of the hottest talents around in 2012.
"There's a young kiddee called Richie G from Montreal in Canada who I feel is going to do very well." [John Digweed]
[Special House Association Review]
Rather well timed for our interview with Nathan Fake, Richie G's two tracker on Bedrock evokes memories of the Border Community wonderkid's first productions. Where Fake has drifted off into the world of fluid and glitchy electronica, Richie is delightfully direct and emotional.
Both tracks exude melancholy and there is a certain bliss to be found in the sounds of sad. Eterna's key is the tight and fast arpeggio that starts to cut through the otherwise dreamy textures, reaching a crescendo of chorused reverb before dropping you down from the ceiling.
If I say But Her Fly has a typical Bedrock bassline stab then I'm sure you know what I mean. The kind of sound that laughs in the face of one note trance basslines with all its squelchy pomp, anchoring the beautiful scales that drift over the track, stopping it from becoming lightweight peacock music.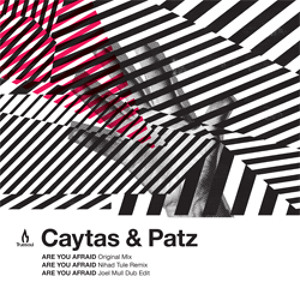 09. Caytas & Patz- Are You Afraid (Joel Mull Dub Edit) [Truesoul | TRUE1233]
Alex Caytas and Aleks Patz make their debut on Truesoul with a deeply hypnotic and darkly flavored cut, 'Are You Afraid'; pairing a rolling groove with shadowy suspense-laden brass and ominous sounding vocals to create a distinctive late-night mood changer.
The remix selection makes for an all-Swedish line up with Nihad Tule and Joel Mull. Tule creates a rougher version; using a harsh kick and dynamic percussion to toughen things up, while Mull's Dub Edit stays closer to the deepness of the original but injects flavor via gruff bass, tense pads and a mind-warping vocal re-arrangement.
Format: 12", Digital
Released by: Truesoul
Release/catalogue number: TRUE1233
Release date: Jan 23, 2012
Transitions 388 Guest Mix
Hour 2: León
01. Nick Curly - A Certain Someone [Cécille Records | CEC025]
02. Frank Roger - I Take You Up [Circus Company | Promo]
03. Dan Drastic - Fish Fingers And Custard [Moon Harbour Recordings | MHR059]
04. Steve Lawler - Up Side Down [VIVa MUSiC | Promo]
05. León - I'm So Guilty [VIVa MUSiC | Promo]
06. Pirupa - Party Non Stop [Desolat | DESOLAT 019 ]
07. Chube.Ka - Press The Bass [Area Remote | AREA038]
08. Dario Zenker - Steppin To [Vakant | VA041]
09. Goldfrapp - Street Machine (Jamie Jones Remix) [Mute | Promo]
10. Vernon & Da Costa - Unknown [Unsigned]
11. Superhero - Drugs And Choice [Unsigned]
12. NiCe7 Vs Bruni & Danielle - Party People [Unsigned]
Last edited by simonr (Tuesday Feb 2012 01:23:49)
SimonR