Topic: Transitions 390
Transition 390
Hour 1: John Digweed
01. Bolumar - Pressurized [Luna Records | LR010]
02. Shenoda - Night Eater [Fear of Flying Recordings | FOFLTD8 ]
03. A Sagittariun - Carina (& October's Soft Body Move Remix) [Elastic Dreams | E-DREAMS002]
04. Matthew Burton & Kate Rathod - Warehouse Fool (The Flip Side EP) [Visionquest | VQ010]
05. Matthew Dekay & Lee Burridge - Für Die Liebe [All Day I Dream | ADID0026]
06. The Mekanism - Can't Believe (Mario Basanov Dub) [Needwant Recordings | NEEDW020]
07. Re.You - Falling feat. Daniel Wilde (Philip Bader Remix) [Souvenir Music | SOUVENIR042]
08. Laura Jones - Inner Place [Crosstown Rebels | CRM091]
09. Lucky Paul - Elephant Island (Midland Remix) [Somethinksounds | STSEP005]
Download [256kbs] >> http://depositfiles.com/files/g0sq2ub1p
Release Notes:
01. Bolumar - Pressurized [Luna Records | LR010]
Spanish producer Bolumar drops the ʻPressurized' EP on Northern England based Luna Records. Previous releases on Kling Klong and Session Deluxe have seen Bolumar earn support from the likes of Slam, DJ T, Moodymanc, Martin Eyerer, Edu Imbernon and Coyu.
ʻDown Low' kicks off the EP with a stripped back swinging drum arrangement and low-end electric piano tones. Simplicity appears to be key here with low pitch vocals creeping in alongside a bouncy bass line for a steady near eight minutes.
Title track ʻPressurized' has an air of Chicago House's early days the constant synth stab driving the track while the use of a double kick drum at the end of each bar and short sub hits gives it a bumpy dance floor feel.
ʻEven More' is a slice of evocative deep house, the prominent drum pattern being the main focus point is enhanced by submerged melodies and the clever use of subtle reverb and delays. The indecipherable vocal chops slip tightly amongst the groove adding to its movement.
Bolumar's ʻPressurized' EP is released on 8th February 2012 on Luna Records, with a digital release to follow.
[thisiswhywedance.blogspot Review]
A three-track offering here from Valencia's Bolumar, who's made previous appearances on Kling Klong but here crops up on Middlesbrough's Luna Records.
Opener Down Low is an uncomplicated but groovy slice of bassy, chuggy tech-house. Even More takes us into slightly warped deep house territory, with that off-kilter, no-frills feel that characterised a lot of the output of Kerri Chandler's Madhouse label back in the day, while title track Pressurized is in a similar vein.
There's nothing here that's massively setting my world on fire or making me leap around the room, to be honest, but these are three solid dancefloor cuts all the same.
[2clubbers.net Review]
Paul Bowen's Luna imprint's enjoyed success over its two-year lifespan as a purveyor of warm, deep house that's steered clear of the hype and bluster and let its music do the talking. With a release schedule that lets the tracks breathe and build support rather than shunt into one another, the start of 2012 sees the 10th EP surface from Spanish producer Bolumar, an artist who's garnered respect with work on Session Deluxe and Kling Klong, and it's a trio of reassuringly uncluttered housers that further the label's reputation.
Down Low is a case in point, with its simple melody looping through the track's entirety, drawing in the listener with subtle keys, a walking bassline, molasses-slow vocal snippets, with careful changes in percs and notes that retain the attention and keep the energy levels up. Even More leans deeper, with low-end pads and sub-bass giving the track space to let the delayed chords and vocals do the work, with just enough light and dark – including vibrato keys in the breakdown that take root afterwards – to give the track a real character. Pressurized closes out a fine EP with a solitary chord, repeating through seven minutes of sonic ebb and flow that eventually submerge and strand it once more, as the percs, rides, and choppy chords joust with fx and disembodied vox.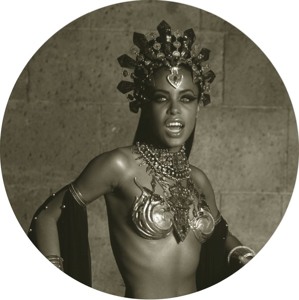 02. Shenoda - Night Eater (Mines of Minolta EP) [Fear of Flying Recordings | FOFLTD8 ]
To round off 2011 Fear of Flying enlist the talents of Shenoda, a name that may be familiar to a few of you who follow the UK based 'Hypercolour' label. The 'Mines of Minolta EP' kicks off with 'Phone Call' - harnessing the essence of Steve O'Sullivan's Bluetrain project the track runs deep with a dubbed out bassline and moody stylings a plenty. The flip sides two tracks inject a lighter, uplifting feel with 'Night Eater' shuffling along on a blissed out pad and solid percussion. 'Supercede' follows on nicely with the same warm vibe to round off a really solid package and a great way for FOF to sign off for the year.
Released by: Fear of Flying Recordings
Release/catalogue number: FOFLTD8
Release date: Dec 12, 2011
[2clubbers.net Review]
Mines of Minolta EP by Shenoda – Fear Of Flying
Laurie Shenoda's production career enters its fifth year with his debut on Ben Micklewright's Fear Of Flying. The producer's close affiliation with Hypercolour – his Shots EP was a standout on the label in 2011 – is well known, but with releases on Fresh Meat, 1Trax and Hairy Claw have marked him out as an artist of subtle, finely-constructed house that's set for a sterling 2012, while Fear Of Flying has on its hands another fine cut of quality four-four.
Mines Of Minolta opens with Night Eater, a customarily deep house number that crafts a base of bright percs and almost muffled low-end groove that interplays with subtle, washed-out chords, an exercise in uncluttered precision. Phone Call employs vocal snippets, painted with delay, meshed with repeating notes and horn stabs and warm chords, demonstrating a similar knack for straightforward foundations, and its joy in sonic details. Supercede completes the EP with a more forceful point, analogue hits and disembodied murmurs flutter under pads and rasping synths, flirting with bleakness but showing character to keep the listener guessing. Classy.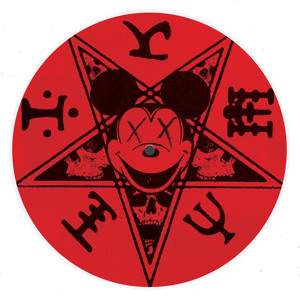 03. A Sagittariun - Carina (& October's Soft Body Move Remix) [Elastic Dreams | E-DREAMS002]
Bristol-based A Sagittariun's Elastic Dreams follows up its debut release 'The Circle Stops Somewhere' with a 5 track EP entitled 'Carina' this coming February.
'The Circle Stops Somewhere' received an incredible amount of Dj Support, with venerable jocks like Lawrence, Craig Richards, Peter Van Hoesen and Gilb'R all chiming in with plaudits well beyond the usual 'support' nonsense.
The label's latest, 'Carina', combines afrobeat, dub, jazz, detroit soundscapes and British electronica to create the sort of varied EP that is rarely heard these days. While the tempos, rhythms and feelings shift from track to track there's a deeper theme that joins them and it's the unmistakable references to a time when house/techno meant more than heads down, 4:4 club fodder.
Having struck up a relationship off the back the first EP and a shared base of Bristol, October delivers a remix of A Sagittariun's title cut and shows yet again why his output is head and shoulders above the rest. Raw, analog and emotive it's a classic piece of house music that oozes real passion for machines and beats.
A Sagittariun's 'Carina' b/w October's 'Soft Body Move' is released on Elastic Dreams in Feb 2012.
04. Matthew Burton & Kate Rathod - Warehouse Fool (The Flip Side EP) [Visionquest | VQ010]
TRACK LISTING
A1. Warehouse Fool
B1. New Funk
B2. Flip Reverse Girl
Matthew Burton & Kate Rathod are the next duo to leave their distinctive mark on the Visionquest imprint. Delivering a deep and dreamy melodic work out with softly fractured beats and reverberating vocals 'The Flip Side EP' is three wintry cuts of understated house music.
Influenced by their techno forefathers and favouring analogue gear, the duo's organic production style exudes an improvised quality. Kate says her strengths lie in the melodic side of things, whereas Matthew is more about creating the groove but whether you're witnessing the unique sound they make through this EP or their expanding live set, the pair's fizzing musical chemistry is clear. 'The Flip Side EP' perfectly encapsulates this raw sound padded with soul.
From a naked kick and snare, 'Warehouse Fool' builds with warm pads, melting vocal echoes and spacey FX. The stripped back beauty of restrained hypnotic beats will provide a soothing after-hours soundtrack. 'New Funk' has more dancefloor purpose with its rolling, dirty groove and dynamic synth melodies.
In 'Flip Reverse Girl' suggestive vocals coalesce with a casual swinging groove fuelled by deep broken beats. The composition is simplicity at its finest, an entirely self-possessed sound that strikes a chord with its atmosphere, jamming feel and wry sensuality.
Long-term partners turned collaborators Matthew Burton and Kate Rathod have been producing music together for around 3 years, collecting various hardware synths, instruments and effects, which allows their sound is continually evolve. Matthew has been in electronic music for the past decade and worked with Connect Four, Retrofit and Leftroom, also giving Sammy Dee's Ultrastretch label its first release. Kate came to dance music a little later after meeting Matthew in 2007.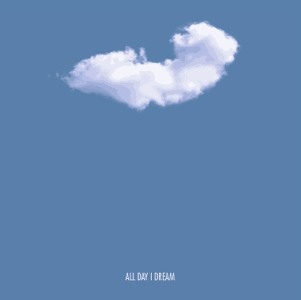 05. Matthew Dekay & Lee Burridge - Für Die Liebe [All Day I Dream | ADID0026]
Stylishly launching their 'All Day I Dream' imprint last month with the double header from Audiofly and themselves, label chiefs Matthew Dekay & Lee Burridge step up to the plate again on 002 with another slice of beautiful orchestrated house.
Taking inspiration from Lee's "All Day I Dream Of Her" DJ Mix, whilst also giving a nod to the likes of Kollektiv Turmstrasse, "Für Die Liebe melts your heart while still making you wiggle your hips.
"Several people have thought that Matthew and I sampled the strings in the track. Truthfully though we just took a load of 'K' and then played every stringed instrument within our reach and... well... voila!" Lee says, tongue firmly in cheek.
"We decided a year and half ago that we wanted to put music back into music. This was one of our most compelling reasons to start the label. Fur Die Liebe" is our best foot forward…so far"
Having been one of their earliest collaborations, Matthew and Lee have enjoyed road-testing this composition. "I played this as the closing track of my set at the Robot Heart party at Burning Man this year," says Lee. "It brought quite a few people to tears, myself included. It was, by far, the best party i've played in 27 years and it broke me… in all of the best ways of course. I just couldn't stop the tears streaming down my face. Don't you just love the power music has over you some times."
Für Die Liebe...For the love.
[RA Review]
Do you like strings? If so, you're really going to like Matthew Dekay and Lee Burridge, at least for the nine or so minutes you're listening to "Für Die Liebe," the second outing on their All Day I Dream imprint. It takes inspiration from Burridge's 2011 All Day I Dream of Her, a mix that he says is "by far the best I've ever made." Kicking off with crisp, clicking hats and a no-nonsense low end, it's not immediately clear where the common ground between the mix and the track lies, but this becomes increasingly transparent with the addition of choral clouds of vocals. Rich strains of bowed strings then creep into the picture, scattering the sky with warming arches of colour as the rest of the track thunders beneath. According to Lee, "Für Die Liebe" brought tens of desert-ravers—himself included—to tears at last year's Burning Man, and while there may well have been other forces that led to that particular outpouring of saltiness, it's certainly an emotional and engaging piece.
If you don't like strings? Fear not; they've also included a Dub which, while not dispensing with the instruments entirely, does rein them in significantly, allowing nothing more than a hushed pulse to brush over what are significantly firmed up beats.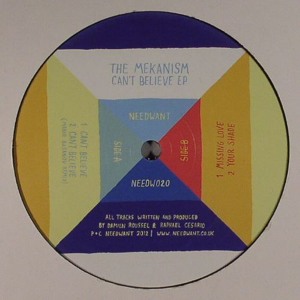 06. The Mekanism - Can't Believe (Mario Basanov Dub) [Needwant Recordings | NEEDW020]
Needwant get set to welcome you to the world of Parisian super duo, The Mekanism, with a debut EP that will make you fall in love with their spin on disco infused house music. Effortlessly smooth and divinely deep, they capture an advanced and modern sound that will blow you away. The EP features three original tracks plus a remix from Needwant favourite, Mario Basanov who continues to gain notoriety as both an individual artists and within his Mario & Vidis project.
Title track 'Can't Believe' oozes with a funky yet deep groove and rhythm.
The empowering melody and warm keys captivate the mind, as the murky vocal takes us deep. Lithuanian producer Mario Basanov steps in for remix duty, with a housier, deeper dance floor spin on the original 'Can't Believe'. Grumbling stabs and rounded melodic keys drive this remix with impressive results.
Next up 'Missing Love' is highly infectious with its forceful bass, fluid warm keys, steady claps and captivating, deep vocal, which will engulf the dance floor. 'Your Shade' is the third of the original tracks on offer from the talented duo. Using their own vocal for a French twist, they prove their artistic worth for this smooth deep cut.
It's a fine debut from a French paring that only met in the summer of 2011. But their combined rich musical history has produced another EP of solid original material for the Needwant camp that treads the line between electronic house and disco music.
Released by: Needwant
Release/catalogue number: Needw020
Release date: Feb 20, 2012
[Alternative Package Notes]
Needwant get set to welcome you to the world of Parisian super duo, The Mekanism, with a debut EP that will make you fall in love with their spin on disco infused house music. Effortlessly smooth and divinely deep, they capture an advanced and modern sound that will blow you away. The EP features three original tracks plus a remix and dub version from Needwant favourite, Mario Basanov.
Damien Roussel and Raphael Cesario first crossed paths in the summer of 2011 and almost immediately The Mekanism was born. Prior to the birth, both men had been DJing and producing separately for considerable time. Damien began his path into a musical career in 2000 DJing in the best clubs in Paris. Moving to Asia he began to produce and now resides back in France continuing with both his DJing and production. Raphael began producing in 2006 with his more techno orientated project 'UNL' and began to DJ soon after a few low-key releases. Amalgamating their rich musical history, the pair now share the same enlightened vision of a deep and disco influenced modern house sound.
Title track 'Can't Believe' oozes with a funky yet deep groove and rhythm. The empowering melody and warm keys captivate the mind, as the murky vocal swims through the deep waters of this powerful drop of sexy disco funk.
Lithuanian hit maker Mario Basanov steps in for remix duty, with a housier, dance floor spin on the original 'Can't Believe'. Grumbling stabs and rounded melodic keys drive this remix with impressive results. Basanov also provides a digital only dub version to round off this solid package, which sees soaring strings float over the deep and dubby textures.
Next up 'Missing Love' is highly infectious with its forceful bass, fluid warm keys, steady claps and captivating, deep vocal, which will engulf the dance floor. Emotively deep and groovy, the enlightening strings and blissful synths roll over the electric bass groove and are destined to capture any crowd.
'Your Shade' is the third of the original tracks on offer from the talented duo. Using their own vocal for a French twist, they prove their artistic worth. This driving, deep cut is laced with a disco influence yet embodies a modern edge that delectably withholds a classic touch with smooth, shining synth patterns.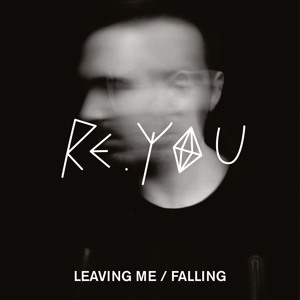 07. Re.You - Falling feat. Daniel Wilde (Philip Bader Remix) [Souvenir Music | SOUVENIR042]
Souvenir present their 42nd release from one a young producer who is very dear to our hearts, Marius Maier, better known as Re.You. Fresh from his recent bootleg successes - his edit of that girl with the inescapable lips, Lana Del Rey, has racked up almost 78 thousand plays on Soundcloud and counting - Re.You ups the tempo for this pair of fresh productions for his home label.
The A1 brings an old-school flavour, a drum-set mail ordered straight from Chicago builds the framework for a bouncing bass-line to drive the track along, whilst a number of well-timed vocal snippets interplay off each other. An echoing soul chorus bellows out from within the depths of the track, and there's even a bit of runway attitude with a divaesque vocal promising us that she'll "try to make it as brief as possible", this obviously doing nothing of the sort for the track's building tension.
The flipside features the vocal talents of another young Souvenir favourite, Daniel Wilde, who sang on Tiefschwarz's last album 'Chocolate'. The drums beckon us in with more of a tribal feeling on 'Falling' whilst Wilde's distorted voice speaks softly into the inner ear, disconcertingly the world. The title itself speaks of the track's nervy equilibrium, the vocals and hypnotic beat doing little to aid one's balance.
There's a pair of lively remixes supplied, Highgrade stalwart Phillip Bader increasing the dance-floor hysteria by picking out the carnivalesque after-hours feel, kicking up the instrumentation and weirding out the bass-line.
Another recent Souvenir artist supplies the final remix, Avatism eases things down a bit, highlighting the drums, the vocal becoming a softly-spoken refrain repeating in the background while some ethereal glockenspiel picks out the melody in the forefront.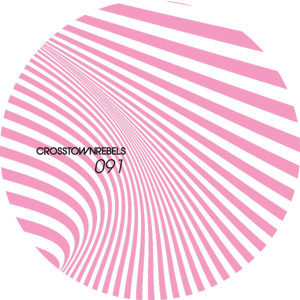 08. Laura Jones - Inner Place [Crosstown Rebels | CRM091]
Making their debuts on Crosstown Rebels one of the undergrounds favourite twosomes Gavin Herlihy and Laura Jones unite on 'Witching Hour / Inner Place' - a double a-side that sees their smooth and intricate styles collide in an immaculate execution of modern house music.
Gavin brings his warm, textured grooves in 'Witching Hour' - a deep house gem that winds off the beaten track in true quirky Herlihy style. With an ominous low-end and warping looped vocal structures, shards of crystalline synths cut through the shadows rendering a mood that is epic and uplifting.
An established figure on the global DJ circuit, Irish born, Leeds based Gavin Herlihy, has built up an illustrious career over the past five years, including a stint in Berlin where he crafted his trade at Panorama Bar, Bar25 and Watergate. Gavin has dropped releases on some of the most prestigious labels on the planet, championed by pioneers like Pete Tong and Ricardo Villalobos. A recent collaboration with Detroit legend Delano Smith on split EP, 'Krypton Factor', was widely regarded as one of last year's standout tracks and the latest on Culprit 'Endless Feeling' has been one of his most successful releases to date also marking shift in style.
A classically trained musician and vocalist, Laura Jones has catapulted to the forefront of her game in the past six months with massive releases on Visionquest ('Live A Little') and the Leftroom anthem 'Love In Me' – recently honoured by remixes from Maceo Plex (reaching #1 in the Beatport deep house chart as the original did), Eats Everything and Kate Simko as part of a special package. Now part of the hallowed Rebels camp, Laura is set to become UK house music royalty as 2012 will surely see her climb the ranks even higher as one of the scene's most in-demand artists.
It's little wonder Laura's signature touch on the melodic house sound has brought her to one of dance music's leading labels.
CATALOGUE CRM091
RELEASED February 13th, 2012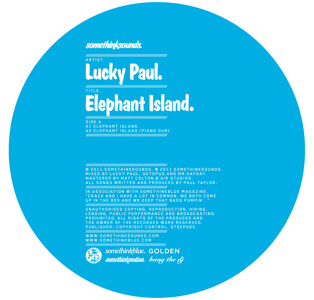 09. Lucky Paul - Elephant Island (Midland Remix) [Somethinksounds | STSEP005]
Lucky Paul – Elephant Island EP
1. Elephant Island
2. Elephant Island (Piano Dub)
3. Elephant Island (Ossie Remix)
4. Elephant Island (Midland Remix)
Label: somethinksounds
Released: 13th February 2012
Distribution: Kudos
Cat no: STSEP005
No stranger to the cherry-picked pool of talent at somethinksounds, Lucky Paul now delivers his second weird and wonderful single 'Elephant Island' on the boutique label, backed by a couple of muscular remixes from Hyperdub wonderboy Ossie and the unstoppable Midland.
Lucky Paul may be a relative newcomer to the electronic music scene but the New Zealander (now residing in Berlin) has spent his lifetime pursuing worldwide musical inspirations. From studying traditional percussion in Brazil to living with Indian music legend Pandit Vikash Maharaj and his musical family, Lucky Paul is an accomplished alchemist in noise and rhythm with an obsessive attention to sonic detail and experimentation. Having already released the sublime and unusual 'Slow Ground EP' on somethinksounds earlier this year (including the huge 'Thought We Were Alone' remix courtesy of Wolf + Lamb and Soul Clap), Lucky Paul now bestows his next unique instalment.
The original 'Elephant Island' is an idyllic soundscape of emotive electronica but bursting with plenty of weird and raw musicality. Punching through the haunting vocal line are brawny drums and rippling analogue synths and bass - It's a supreme percussive work out that builds into a dramatic orchestra of beats and strings. The alternative 'Piano Dub' begins all passionate keys, space-out, stripped-back percussion and develops into another compelling wall of sound.
Rising producer and new label family Ossie steps up for the first rework with a deep and wonky voyage into the realms of UK funky. Lending 'Elephant Island' a lick of futuristic darkness, demented keys, pulsing bass and erratic staccato rhythms pierce the calm of the filtered vocal. An ideal match for the boundary-less spirit of somethinksounds, 22-year old East-London dweller Ossie has been setting labels Hyperdub and Lightworks alight with the ingenuity and versatility of his debut productions.
Midland offers his Midas touch in the second remix with an uplifting deep house rendering of 'Elephant Island'. Swimming in warm pads and fuelled by a rolling groove, this is destined to provide the euphoric dance-floor moment.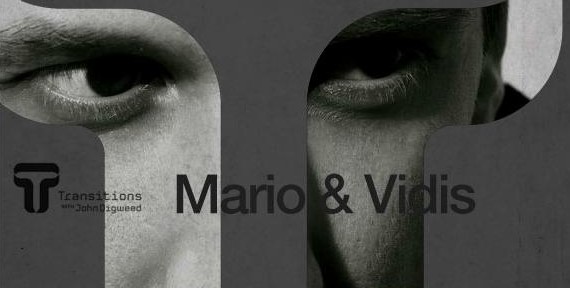 Hour 2 : Mario Basanov (from Mario & Vidis)
01. Downtown Party Network – Untitled [Unreleased]

02. Roman Flügel – Deo [Dial Records | DialLP23]

03. Mario & Vidis feat. Ernesto – Changed (12" Dub) [Silence Music | SILENCE009]

04. Dave Aju – All Together Now (Dave Aju 'Back And Forth' Mix) [Circus Company | CCS060]

05. Mathew Jonson – Dayz [Crosstown Rebels | CRM085]

06. Agoria feat. Scalde – Singing (Dixon Mix) [Innervisions | IV36]

07. DJ T. feat. Jaw – Remember The Future (Mario & Vidis Redo) [Get Physical Music | GPMDA046]

08. Prommer & Barck – The Barking Grizzle (Detroit / Berlin) (San Soda Remix) [Derwin Recordings | DERWIN 003-3 ]

09. Flowers And Sea Creatures – A.M. (Ewan Pearson Re-Edit) [Buzzin' Fly | CD010FLYV]

10. Luomo – Spy (Penner+Muder Remix) [Moodmusic | MOOD111]
SimonR