Topic: Transitions 406
Transitions 406
Hour 1: John Digweed
01. Spada & Emmanuel - Primavera (Petar Dundov Remix) [Monique Musique | MM083]
02. J.D.N.M.G.J - Trezzz (Dub) [Bedrock Digital | Beddigi-22]
03. Marc Romboy - The Advent [Systematic Recordings | SYST0088-6]
04. Dosem - Beyond Standards [Break New Soil | BNS032]
05. Quivver - Here's This (Marc Marzenit Remix) [microCastle | MCSL025]
06. Monika Kruse - Trippy Tipi (Traces Part 1) [Terminal M | TERM087]
07. Guy J - Lost & Found [Lost & Found | Promo]
08. Francys - People (Alex Niggemann Remix) [Highway Records | Promo]
09. Tale Of Us & Visionquest - Equilibrio (Cocoon Compilation L) [Cocoon Recordings | CORLP030]
Downloads:
Hour 1: http://www.mediafire.com/?as7w7cfbwf7x8lf
Hour 2: http://www.mediafire.com/?149yv58527ho40u
Release Notes: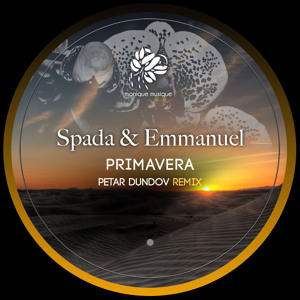 01. Spada & Emmanuel - Primavera (Petar Dundov Remix) [Monique Musique | MM083]
Spada & Emmanuel are the new italian based duo , a pure joy of detroiter and melodic stuff. Check the upcoming single Ep "Primavera" out in June with the special Petar Dundov Remix. Will follow a full plan of releases this year.
EP #1 "Primavera" // In the beginning there was nothing but soft darkness, and Raven beat and beat with his wings until the darkness packed itself down into solid earth. Then there was only the icy black ocean and a narrow strip of shoreline. But people came soon to live along the coast. And Raven felt sorry for them, poor, sickly things, who never had any sunshine. They lived by chewing on nuts and leaves, and crushed the roots of the alder trees for something to drink.
Released by: Monique Musique
Release date: Jun 1, 2012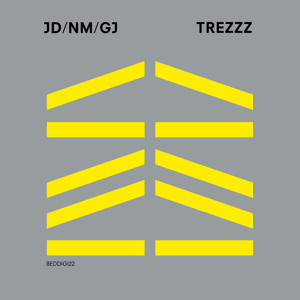 02. J.D.N.M.G.J - Trezzz (Dub) [Bedrock Digital | Beddigi-22]
If 3 is, indeed, the magic number, then there's something very special going on here. Those initials will immediately give the game away to anyone who is a fan of exciting, forward-thinking electronic dance music, as 3 of its most talented exponents have ganged up for a studio session and cast a musical spell that is nothing short of extraordinary.
Fresh from his exceptional remix of the classic Circulation track "Turquoise" (Mesmeric), and brand new track "Genesis" coming on Sven Vath's Cocoon later in June, who else but the melodic maestro - Guy J - could be the perfect creative studio partner for John Digweed and Nick Muir, producers of the finest electronic dance music, who have been involved in many pivotal moments in the world of club music over the years and have in many ways helped to define genres & push the boundaries ever further forward?
As with all their releases, "TREZZZ" shows that no one is resting on past laurels but always developing their sound in an exciting direction. Those with fingers firmly on the pulse of innovative electronic music will have noted "TREZZZ" as being a major highlight on John Digweed's latest "Live In Cordoba" (Bedrock) mix album. Now it's time for this collaborative stroke of genius to shine in its full spine-tingling glory. 2 versions. 2 masterpieces. 3 is, indeed the magic number!
Released by: Bedrock Records
Release/catalogue number: BEDDIGI22
Release date: Jun 4, 2012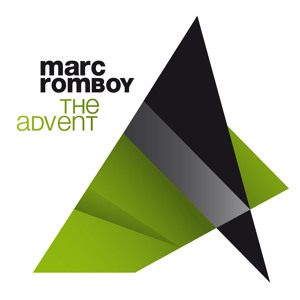 03. Marc Romboy - The Advent [Systematic Recordings | SYST0088-6]
My next Single is called "The advent" and there is a reason for this! Have a listen and find out! Release date is June the 6th and there will be a Nic Fanciulli remix on the flip which I will upload 4 my followers only next week! Best regards from sunny Recife ... Marc
Released by: systematicrecordings
Release/catalogue number: SYST0088-6
Release date: Jun 4, 2012
04. Dosem - Beyond Standards [Break New Soil | BNS032]
Girona's finest Marc Dosem steps up with a debut trio of tracks for Break New Soil, having been invited by the main man himself, Gregor Tresher. The BNS boss has been a admirer for some time and reached out personally.. "I've been a massive fan of Dosem's productions, hammering each and every one over the past year. I was really keen to have him on the label and was very happy when he told us he was already a fan..."
Dosem's enviable ability of matching beautiful melodies with floor driving power has seen him rise to become one of the hottest young producers of today. "I really dig how his tracks have that melodic edge without ever being cheesy" says Gregor. its those qualities that shine through again on the "Beyond Standards" ep. The title track is a perfect demonstration of Dosem's trademark sound, whilst "Invasion" sees the Spaniard delve into darker territory. Final track "Everybody Knows" is 100% heads down tracky material. Perfect for the floor!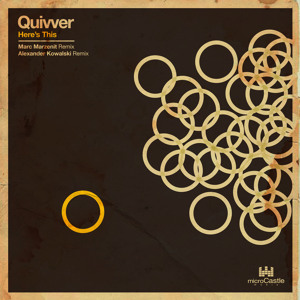 05. Quivver - Here's This (Marc Marzenit Remix) [microCastle | MCSL025]
The 25th release on microCastle sees John Graham returning to the label under his much loved Quivver alias for his first single and a follow up to his Monaque 'Dos3000' remix from July of 2010. He is best known as Quivver, but has invented a host of other monikers, including Space Manoeuvres, Stoneproof, Skanna and Tilt, each representing a different shade of his eclectic production sound and each giving an idea of his true versatility.
John first came to our attention all the back in 1994 when we heard his 'Twist & Shout' for the first time, a vibrant and electric style of energetic house that was fresh and undeniably cool that still sounds great now 20 years later. Over the last several years John has further established himself as one electronic music's most versatile producers. With releases on Bedrock, YoshiToshi and Toolroom. As a vocalist John has collaborated and written electrifying songs for the likes of Hybrid, Planet Funk and also Darren Emerson's exciting new project 'The Low Highs'. As a DJ, John has traveled the world and performed every conceivable hot spot from Glastonbury,UK to Pacha, Buenos Aires to Asia to his enviable residency at the notable Twilo, NYC to Avalon, L.A.
Quivver's first single for microCastle is entitled "Here's This' and it comes with remixes from Marc Marzenit and Alexander Kowalski. John's original mix is most certainly one of his most infectious grooves to date; unmistakably Quivver with a momentous roll and gargantuan swing that should have your entire dance floor moving in unison. Complete with an eerie vocal stab, dark grungy chords and airy, incandescent pads 'Here's This' is one of John's most accomplished progressive techno crossover tracks to date.
Spanish producer Marc Marzenit returns to microCastle for his second appearance and provides the first remix on the package. Marc's first appearance on microCastle was his remix of Monaque's 'ID' which turned out to be one of his most sought after productions in 2011 and his 'Here's This' interpretation looks set for a similar fortune in 2012. Marc's delivered a contemporary monster of a mix with waves of clattering drums and pulsating bass tones which form one of the Spanish producer's most devastating grooves to date. Metallic coated keys, big menacing sweeps and gyrating vocal swirls create an undeniably hypnotic environment that is utterly intoxicating.
The final interpretation on the package is provided by the Berlin based techno DJ / Producer / Live Act Alexander Kowalski. His DJ sets and live performances have been making waves throughout the electronic music underground for their tough techno sensibilities, deep harmonies. Alexander has been awarded the titles of best producer, best live act and has been a two-time nominee for the German dance award. His Damage Music imprint has been one of our favourite labels over the last two years as well so we are thrilled have him on this project. Alexander's 'Here's This' interpretation might be his darkest and most menacing studio creation to date. Rolling beats, dark electronics, vocal gates and a grinding momentous groove all combine for an unrivalled apocalyptic vibe that is not for the faint of heart!
Released by: microCastle
Release/catalogue number: MCSL025
Release date: Jun 5, 2012
06. Monika Kruse - Trippy Tipi (Traces Part 1) [Terminal M | TERM087]
First single taken from the upcoming new album! A1 & A2 are produced by Monika Kruse & Sante, Flipside by Monika Kruse & Dapayk.
It could be a Monday. Maybe it is more like a Tuesday or any other day of the week. But it is certainly one of these days when your memory parades in front of you, full of emotions. And then the search for the traces begins. A few dozen pictures in your digital camera, your record case - still lying next to your front door. Handle with care. This side up. In your pocket, there is a flyer; on its back a short but treasured message "thank you for the music."
Monika Kruse knows these days and moments. Her personal collection of memories as a DJ, musician and producer continues to give her the ideas, strength and dedication which music always demands.
At the start of the nineties, Monika´s DJ life began with her as a resident at the Ultraschall Club in Munich. During the next years she published seven mix compilations and set up the record labels Terminal M and Electric Avenue. Her flourishing career took her East, several times, to Japan`s biggest indoor rave 'Wire', and Australia, as well as West, to the best Brazilian clubs. Back home in Berlin, she played in front of a crowd of 1.5 million ravers at the Love Parade, and at world-famous local clubs such as Berghain / Panoramabar, Watergate and Weekend.
Now, twenty years later, she has put all of her traces and roots into her fourth artist album. All the beginnings, the ends, highlights, styles, and shadows/colours of her musical life. For Monika, words like deep house, techno, Drum & Bass or tech-house stand for hundreds of records, artists and parties. Traces she collected and digested at some time all put together as a whole.
"E Pluribus Unum" – out of many, one. And so you find, in roughly 66 minutes, all aspects of a musical life. Music as the drive and motor of her life. 12 inch or 12 cylinder. This album gives 12 answers.
It starts with "Cycle of Trust" , which hurries along with its tribal groove like the perfect soundtrack of a sunrise before segueing into "Playa Dust" – making the listener seem to float with its drums and hypnotic track.
The more dubby track "Exhale" puts us back onto the dance floor, we can only guess the place and time. But maybe it is just the cool introduction to what the voice of Chicago pioneer Robert Owens (Fingers Inc.) does in "One Love". Do dreams come true? They did the day I met you. This intro will be heard often in the months after the release of the album – the bass line shows how much life can be in a house track. And it can answer all questions why a genre named deep house was invented. Monika shows, especially in the breaks of her tracks, how speed can be accelerated without embarrassing effects.
One can also hear this effect in the next two variations of 'Robot Heart'. They start as an edit with a straight march, which then – in the original mix- really puts you on the dance floor. If only robots could dance. During the middle of the album, Monica`s techno roots appear more and more with 'Wavedancer' (which is the track she includes as a remix, together with producer Thomas Schumacher), sometimes in 'Traces' or the extremely driving 'Trippy Tipi' with its legions of drums that pay respect to the old techno heroes Jeff Mills and Joey Beltram.
Those who know Monika`s DJ sets will recognise the change to the track 'With Hindsight' a change not possible without hard breaks, a track that puts into contrast the soulful voice of Nick Maurer (Shak Digital, Shaker Plates, Om, D'lectable) to an amazing piano break. With 'Namaste' the album returns to its beginning and in the very emotional last track 'M.U.M', Monika shows her weakness for broken beat, ambient tracks in the mode of Aphex Twin or Autechre. But this seems only to be the end for the new beginning, for a day that reads new traces.
07. Guy J - Lost & Found [Lost & Found | Promo]
"Absolute Killer Track This One" [John Digweed]
2012 sees Guy J kick off an exciting new project with his close colleagues and friends at Bedrock: his very own imprint "Lost & Found", a sub-label for John Digweed's long running mothership where he'll release music by himself and his favourite producers. Then there's the small matter of a release on Cocoon, one of the most highly regarded labels in techno and beyond, and some exciting collaborations in the pipeline with some other inspiring artists. As always with this unique talent, it's quality, not quantity. Each of his releases is met with a swell of anticipation, and for once in this often over-hyped world, it's fully justified.
"To have a label, I think, is what almost every artist who loves music must have in mind, but to have it as a sub-label in the Bedrock camp is a dream come true. John Digweed has always been supportive of me and suggested we could do it that way, so I hope to give it the best I can to make it progress and keep on putting good music out there." [Guy J]
08. Francys - People (Alex Niggemann Remix) [Highway Records | Promo]
Limited advance release info // incl. remixes by Alex Niggemann and Nico Lahs & Ahmet Sisman.
Francys is from Monopoli, Puglia, a small city in the south of Italy. His sound founded on a natural underground matrix, brings him to follow the electronic music movement and after his research trip around Europe, from Berlin to Genève. After bringing his highly rated "Crossing the White Line" on Highway records, his latest EP 'Lonely Road' [Southfooled | SFLDD004-6] is supported by Richie Hawtin, Steve Bug, Luciano, M.A.N.D.Y. Danny Howells & Laurent Garnier.
Highway Records, established in 2008 and run by Mike Spirit, is Moscow-based techno/house label which unites talented Russian sound producers (SCSI-9, Monaque, Modul, Nikitin, Tripmastaz, Spieltape, BarBQ, Bvoice & KHz, etc.) and a huge international crew — such top notch artists from all over the world as Gui Boratto, Robert Babicz, Phonique, Tigerskin, Jim Rivers, Pascal FEOS, Terry Lee Brown Jr., Guti, Sei A, Kolombo, Dirt Crew, Tom Budden, Francois Dubois and many more.
Highway Records 12" vinyl and digital releases were supported by John Digweed and Laurent Garnier, Carl Cox and Nick Warren, Hernan Cattaneo and Loco Dice, Guy Gerber and Seth Troxler, Paco Osuna and Gel Abril — just to name a few.
Highway is a well-known brand which includes not only a parent record label and sublabel (Cooltool Records run by Mike Spirit and Rayo) but also regular parties, showcases and, finally, a very special merchandising line.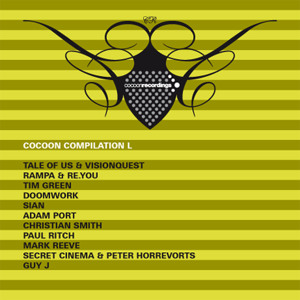 09. Tale Of Us & Visionquest - Equilibrio (Cocoon Compilation L) [Cocoon Recordings | CORLP030]
"L is for lover,
O is for an offer,
V you got to venture,
E maybe forever."
(Al Jarreau, 1986)
OK, we don't know whether Grammy-award-winning Jazz icon Al Jarreau has actually already thought of the twelfth Cocoon Compilation when he wrote his 86' hit. But that the Cocoon Compilation L is all about love, is beyond debate: the love for electronic dance music, for its complexity and its diversity, the love for this global musical language and last not least the enthusiasm for the well-known and the still non-famous protagonists of this tonal romance that faithfully accompanies us through night and day for more than 30 years now.
And that's why L begins with a proper love song: for "Equilibrio", the Berlin residents Tale Of Us have teamed up in the studio with their – currently extremely hip – boosters Seth Troxler, Ryan Crosson, Shaun Reeves and Lee Curtiss aka Visionquest. The result is a romantic sonnet for the 21st century, and its dreamlike dabbed piano will be carrying us into some sunrise still – a perfect start for this compilation. On with the Tiefschwarz protégés Rampa & Re.You, whose club hit "Ghost" was essential in last year's Ibiza season. Also "Yeah Yeah Yeah feat. Meggy" bewitches with a unique sense for soulful vocals without baroque-like embellishment, and with its deep organ riff the dry and bass-heavy Trax House gains unimagined emotional intensity.
DJ Tim Green from London, well-known for his releases on Four Twenty, Trapez and last not least for his "Lemon"-EP on Cocoon Recordings in 2011, generates in "Curious Smile" club-related but still shy Pop House from playful keyboard improvisations. This is what you – in a better world – would hear on standard-format radio. And also in the further course of the compilation the cornucopia is lavishly emptied: the Italian duo Doomwork, well-known for tracks for 100%Pure and Tronic, is lustfully petering out in the summery space-time continuum with percussive Dub, gorgeous sound layers and slow-motion vocals; Graham Goodwin aka Sian is pumping out his subsonic rave signal "East Of Eden" to the front and will thus presents true challenges to some club PAs.
Keinemusik act Adam Port, who seems not to have any stylistic anxieties, does his gusto for Boogie bass credit also with "Black Noise", while DJ globetrotter and Tronic label boss Christian Smith (currently on everyone's lips with his remixes for Carl Craig and Underworld) will make even bigger floors shake with his tropical, powerful energy. Two extraordinary percussion-driven energy infusions are then celebrated by Mark Reeve ("Planet Green") and DJ Paul Ritch from Paris, whose core statement "music never separated people" can't be emphasized enough, while the Dutch dream team Secret Cinema and Peter Horrevorts serve a surprisingly industrially-characterized Techno.
The finale is initiated by the best known Israeli producer besides Guy Gerber, Guy J, whose "Genesis" finds a perfect balance between hypnotic melodies and demanding rhythms, totally in the manner of his works for John Digweed's Bedrock label. The last chord is set by Daniel Stefanik from Leipzig: his more than ten minutes long "Everything Goes Green" elevates the process of waiting for the right moment to an art form and is, with fragmented rhythms, patient enough to intonate grated chocolate instead of exuberant sweetness. There's no better way to capture the magic intensity of a terrific after hour party for ever and ever. An album to fall in love with!
Hour 2 : Jay Tripwire
01. Guy Gerber - Hate Love (Kate Simko's Liquid Disco Remix) [ Supplement Facts | SFR021XXX]
02. Jay Tripwire - Move Your Body Feel Like This [Bass Culture Records | BCR024-6]
03. Hundred20 - Upper Alley [Motorcity Drum Ensemble | MCDE 1206-07]*
04. Delano Smith - In Limbo [Sushitech | SUSH13]
05. Andrade - Permanent Ban [Dessous Recordings | Promo]
06. Franck Roger & Mandel Turner - After All (D'Julz Main Mix) [Real Tone Records | RTR056]
07. Jay Tripwire - Hot And Sour Dirty [Unsigned]
08. Smash TV - Steroids To Heaven (Hector Remix) [Get Physical Music | GPM157]
09. Jordan Peak - Move With It (Huxley Warehouse Dub) [Klasse Recordings | KLS017]
10. Achterbahn D'amour - Trance Me Up (Skudge Remix) [Acid Test | ASD019]
11. Shenoda - Favorite [ Hypercolour | HYPEDIG013]
12. Alex Flatner & Lopazz - This [Poker Flat Recordings | PFR 123]
13. Simon Baker - Osaka Nights [Leftroom Limited | LEFTLTD024]
14. Android Cartel - My Hypnotist [ Unreleased ]
15. Dzeta N' Basile - Perceptions (Jay Tripwire Remix) [Hot Potato | Promo]
16. Chelonis R Jones - Deer In The Headlights (Radioslave Remix) [Get Physical Music | GPM 039-6]
SimonR