Topic: Zutekh & Jika Jika! Halloween Freak Out Cassy & Midland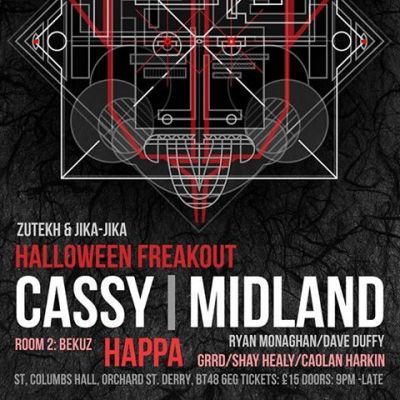 Tickets:
Early Bird £10
http://www.skiddle.com/whats-on/Birming … utekh-J...
Zutekh, Jika Jika & Bekuz all join forces to bring you a monster Halloween party! Taking over two rooms of the St.Columbs Hall on the 31st of October with one of the strongest line ups the city has seen in recent years.
HALLOWEEN FREAKOUT :
ROOM 1 (Zutekh & Jika Jika)
CASSY
MIDLAND
+
RYAN MONAGHAN & JOHN MORRISON (JIKA JIKA)
DAVE DUFFY (ZUTEKH)
ROOM 2 (Hosted by BEKUZ)
HAPPA
+
GRRD & SHAY HEALEY (BEKUZ)
CAOLAN HARKIN (O/CULT)
++++++++++++++++++++++++++++++++++++++++++
THURSDAY 31ST OCTOBER
ST COLUMBS HALL (ORCHARD STREET DERRY)
DOORS 9PM /
TICKET'S ON SALE NOW FROM : (SKIDDLE)
*****************************************************************
CASSY
Catherine Britton aka Cassy left England for Austria with her Caribbean father and Austrian mother in 1975. She spent her childhood in Vienna and Lower Austria learning to sing and studying music at an early age. After studying drama and acting in London for three years she returned to her hometown of Vienna and began working in the theatre. But she soon gave up acting when she realised she couldn't stand the profession.
Her first professional step into the electronic music world was as a vocalist for Elin aka Autorepeat on 'Music Takes Me Higher' on Sabotage Records. Electric Indigo was able to convince Cassy to not only involve herself as a singer but to learn how to mix records. After her first DJ gig in Vienna, Munich and further productions she met Dave the Hustler in Geneva where they started working on a collaborative project for Mental Groove, Cassy & Dave the Hustler. Geneva was also where she met Luciano, co-producing 'La Ondita' on his album 'Blind Behaviour'. She also co-produced 'Alpine Rocket' with Mathew Jonson for Perlon.
After moving to Berlin in 2003 and being inspired by the club scene and music, she worked with artists such as Ricardo Villalobos and Steve Bug and has also had releases on Perlon Records. Recently she started her own label Cassy, She regularly spins at the Panoramabar in Berlin.
http://www.residentadvisor.net/dj/cassy
https://www.youtube.com/watch?v=VlptoniIKOc
MIDLAND :
Midland made his 2010 debut alongside longtime friend Pearson Sound with their anthemic track "Your words matter", a track that would go on to be placed in DJ Mag's "100 most important house records" feature. Within the track the pair wove, defied and played with a number of genres and, in doing so, Midland laid a clear foundation stone for his vision of how electronic music could be. It is a sound that is rooted in House and Techno but with the rumbling low end of Dubstep and wide screen experimentation of classic Electronica.
Since then, subsequent releases with Aus Music, She Works and Phonica plus remixes for artists like the 2 Bears and Julio Bashmore have cemented his reputation as a producer whose tastes reach beyond the dancefloor. His deft edits of Washed out, Boards of Canada and Caribou have become firm favourites with many and won over some diehard fans along the way.
As a DJ his sets are unsurprisingly diverse, something witnessed at clubs from Fabric to Plastic People to Space in Ibiza, Panorama Bar in Berlin and Chinese Laundry in Sydney. As a result he is just as likely to be playing seen playing alongside artists such as Joy Orbison and Ben Ufo as he is Marcel Dettman, Four Tet or Will Saul.
With the imminent launch of his new label Graded and the fallout from the release of Trace on Aus Music still being felt in clubs around the world, it's safe to say you'll be hearing quite a bit more from him in the future.
http://www.residentadvisor.net/dj/midland
https://soundcloud.com/midland
https://www.youtube.com/watch?v=xeK2RoGieWE
HAPPA
Within less than 12 months Leed's based Samir Alikhanizadeh aka Happa has gained props from tastemakers such as Skream, Annie Mac, Loefah and Ben UFO, remixed Four Tet and Vondelpark, signed to new management under the watchful eyes of R&S Records, and mixed exclusive sets for Mary Anne Hobbs' XFM show and Mixmag's Mix of the Week series. A lot to happen for a 15 year old.
Yet despite being in his teens Happa's productions are kinetic, mature and distinctly original. His work
combines brutalist techno aesthetics with the sonics of UK Bass Music. With latest release for fledgling label Church melds dark brooding subs with lurching drums and vocal cuts; exciting the groove with each hit.