Topic: Justin Oh feat. Jennifer Yun - We Chase The Sun [SILKRL064]
LIKE Silk Music: http://facebook.com/SilkMusic
SUBSCRIBE to Silk Music: http://bit.ly/SilkYouTube
Samples & Purchase:
Beatport: http://bit.ly/SilkRoyal
iTunes: http://smarturl.it/SILKRL064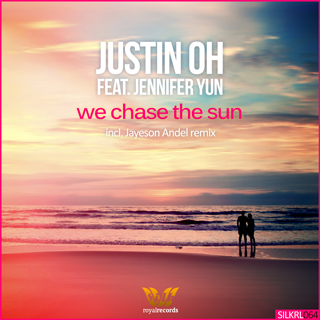 Our latest release features Korean sensation Justin Oh, who just completed a North American tour, as well as several global Ultra Music Festival events. Needless to say, he has experienced a dramatic rise this past year, now being recognized as one of the leading new talents in Trance & Progressive. We're thrilled to share his latest single, "We Chase The Sun", featuring the stunning vocals of Jennifer Yun. On remix detail, we have recruited buzzworthy Canadian talent Jayeson Andel for his second Silk Royal remix of 2014.
The original mix is the welcome follow up to Justin's hit single "Always Running". Like its predecessor in the narrative, "We Chase The Sun" features heavenly vocal parts and Justin's signature neon-bright synths overtop inspired, peak-hour grooves. Meanwhile, Jennifer sings the key lyrical motif "it's a good day, today" with heartfelt gratitude, and her joy and appreciation for life is matched by Justin's exuberant instrumental.
Jayeson Andel is unquestionably an artist to watch in 2014, with numerous projects in development that showcase his extremely versatile range as a composer. This particular offering highlights Jayeson's specific talent for tasteful, big-room trance. A massive, layered saw lead blends emotively with Jennifer's soaring vocals and Justin's lush melodies. The drop that emerges at the start of the song's second half is unabashedly stadium-rocking.
Info:
Cat#: SILKRL064
Beatport release date: May 12th, 2014
iTunes release date: May 26th, 2014
Genre: progressive house, trance
Format: digital
Stores: Beatport, iTunes, JunoDownload
Tracklist & YouTube Previews:
Feedback:
Kyau & Albert, Johnny Norberg, Ruben de Ronde, Kenneth Thomas, Shawn Mitiska, Tom Fall, Blake Jarrell, Ad Brown, Marcus Schössow, Pedro Del Mar, Tjerk Coers, Dash Berlin
Artist Info:
Justin Oh: http://soundcloud.com/justinohfb
Jayeson Andel: http://soundcloud.com/jayesonandel
For More Information:
Facebook: http://bit.ly/SilkFacebook
YouTube: http://bit.ly/SilkMusicTV
Twitter: http://bit.ly/SilkTwitter
SoundCloud: http://bit.ly/SilkSoundCloud
Google+: http://bit.ly/SilkGooglePlus
Silk Royal Showcase: http://silkroyalshowcase.com
Only Silk Radio: http://onlysilkradio.com
Photography:
Photographer: Kris Vlad
Website: http://www.facebook.com/krisvladphoto